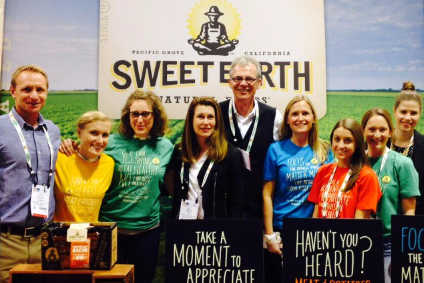 Nestle has snapped up US plant-based foods maker Sweet Earth.
The deal, struck for an undisclosed sum, sees the world's largest food maker enter the US plant-based food market. Nestle already owns the European vegetarian brand Garden Gourmet.
Husband and wife team Brian and Kelly Swette bought Sweet Earth in 2012 and have since built the company in Moss Landing, California, into a multi-million dollar entity. The firm makes frozen meals, burritos and chilled plant-based burgers and proteins that are sold in more than 10,000 stores, including Whole Foods and Walmart. Sweet Earth is "on a mission to make delicious, healthy, sustainable foods", its website says.
In a statement today (7 September) announcing the deal, Nestle said Sweet Earth will continue to be led by the Swettes and the business will remain independent, with support from the food giant's US division.
Paul Grimwood, the CEO and chairman of Nestle's US arm, said the country is seeing a consumer shift toward plant-based proteins, with as many as 50% of consumers now seeking such foods in their diets and 40% being open to reducing their traditional meat consumption. 
"One of Nestle's strategic priorities is to build out our portfolio of vegetarian and flexitarian choices in line with modern health trends," Grimwood said. "With unique and nutritious food for all times of the day, Sweet Earth gives Nestle a leading position in this emerging space."  
Sweet Earth products feature plant-based proteins like seitan, tofu and legumes, and span three core platforms: entrees, breakfast and plant-based proteins, called Righteous Meats. They include a variety of vegan and ethnic-inspired choices such as General Tso's Tofu and the Curry Tiger Burrito. 
Kelly, who is Sweet Earth's CEO, said: "Our products meet the demands of flavour-forward consumers who want more plant-based foods, especially millennials who want convenient, real food and flexitarians who are looking to include more vegetables and plant-based proteins in their diet. Nestle's acquisition validates what forward-thinking consumers and retailers have been demanding for a while — more wholesome and sustainable choices." 
In July, Nestle said the US market had been challenging amid weak consumer demand after it reported first-half sales fell 0.3% to CHF43bn (US$45bn).