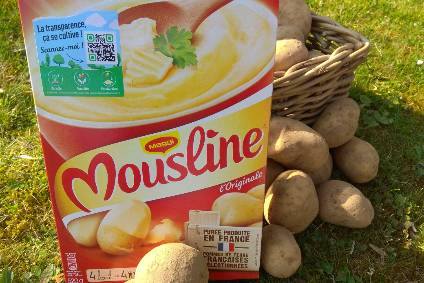 Nestlé has teamed up with Carrefour to put one of the food giant's products on sale in France on a blockchain platform.
Consumers looking to buy Mousline instant mashed potato in France can scan a QR code on the product's packaging to "follow the journey of the product" from a Nestlé factory in the north of France to Carrefour stores. They can see the production date, "quality control parameters", storage times and the location of warehouses. In addition to the blockchain data, consumers will also find information on the farmers who supply the potatoes for Mousline and how the puree is made.
Vineet Khanna, global head for supply chain at Nestlé, said the "pilot" is a "great step forward on our blockchain journey". Khanna added: "We are using this technology to bring more transparency to our products by providing accurate, trusted and impartial information."
In 2017, Nestlé was among a group of companies to team up with IBM to study how blockchain could be used in the food supply chain. In October 2018, Carrefour joined the initiative and, since then, the retailer has been working with Nestlé and IBM on the mashed potato project.
Last year also saw Carrefour put a number of its own-label products on a blockchain platform.
just-food interview from April 2019: Arla Foods' Tomi Siren on how blockchain is helping the dairy giant's sustainability drive