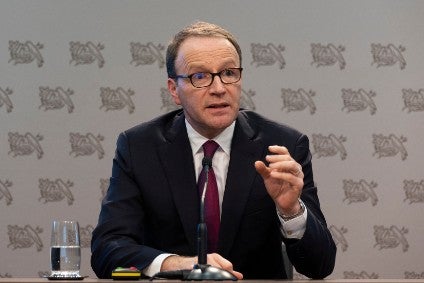 The food and beverage industries could see greater sales made through e-commerce in the wake of the Covid-19 pandemic, Nestlé CEO Mark Schneider has suggested.
During the first quarter, Nestlé saw e-commerce sales for its petcare and coffee businesses and, speaking to analysts after the world's largest food maker posted its sales for the opening three months of the year, Schneider suggested the channel could grow in importance for the food and beverage markets.
"This is a key area where we saw true significant increases," Schneider said of Nestlé's Q1. "I think some of that will be here to stay. One of the side-effects of this crisis will be it will be a breakthrough event when it comes to e-commerce for food and beverage.
"Food and beverage categories [have] tended to be somewhat slower when it comes to e-commerce, compared to, for example, books or consumer electronics. I think some of that is changing now because people see the convenience of e-commerce in food and beverage as well."
After analysing its first-quarter, e-commerce accounted for 10.4% of Nestlé's sales during the period, versus 8.5% in 2019, CFO François-Xavier Roger told the analysts.
Last week, Nestlé was the third in a trio of Europe's largest food manufacturers to report their first-quarter sales, following Danone on Tuesday and Unilever on Thursday.
Schneider – and his counterparts at Danone and Unilever, Emmanuel Faber and Alan Jope – each underlined how difficult it is to make firm predictions amid the still-unfolding crisis. However, reporting their companies' first-quarter sales numbers, they each suggested certain ways consumer demand could take shape in the wake of the virus and amid the consequent likely economic crisis to come.
At Danone, Faber posited that, after years of seeing smaller new entrants eat into the market shares of incumbents, big brands might be able to prosper as consumers adjust after the Covid-19 pandemic.
On Friday, Schneider was asked was by one analyst for his own reflections on whether the Covid-19 had "played into the hands of those owning bigger brands" vis a vis smaller rivals in the market.
Schneider said: "I think short term … just like people are seeking value for money, I think they're also seeking trust that comes from strong brands and established brands. This is a phenomenon we're seeing right now."
However, the Nestlé chief sought to underline how innovation would prove crucial in the face of competition. "This whole notion of faster innovation, which we really implemented over the last two to three years, that to me is the more lasting and more important thing when it comes to really making those large, strong, trusted brands resonate with consumers. Because if consumers don't find, even under a strong brand, the products they want, then over time, they kind of go somewhere else. Winning them back – and I think we were making good progress even before the crisis – that to me is the more important thing because, when this crisis is over, that whole trend, meaningful innovation and filling these large brands with life, that will still apply."
At Unilever on Thursday, while echoing Faber's comments on big brands, Jope also said he believes the notion of "value" will rise up the consumer's agenda as the macroeconomic impact of the pandemic hits spending. "In the aftermath, we do anticipate some trading down to more value-priced brands because we are facing an inevitable economic downturn," Jope said.
On Friday, asked for detail on how Chinese consumers were spending as that country's lockdown restrictions are eased and what Nestlé expected to see as curbs were lifted elsewhere, Schneider said: "I think some of the initial reactions we saw in China also apply here for the rest of the world now. There's an increased interest in value-for-money, and that's not surprising because this health care crisis also goes hand-in-hand with an economic crisis. And I think it's safe to say that we're middle of a global recession right now, and hence, people are very value-conscious and there's a strong interest in that."
However, he added: "Looking back at the first quarter, we nonetheless saw our premium products hold up well. And that is something that in hindsight also is very much in sync what the experience we had from previous crisis, including the world financial crisis, where usually it's the two extremes, the value side and the premium side, that do hold up quite well in a downturn. And at least now, for the early innings of this new situation, that seems to apply as well."