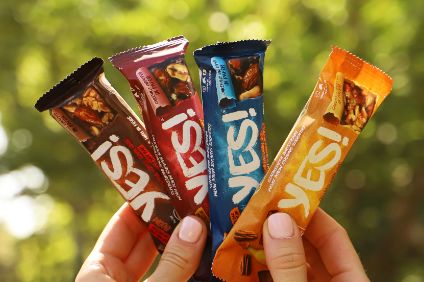 Nestlé is to use recyclable paper packaging on its Yes! snack bar range – but the food giant admitted there was not yet the supply of the new material to use on its higher-selling confectionery products.
A research and development team working at Nestlé's confectionery R&D centre in York, in northern England, have found a way to use a recyclable paper wrapper in a high-speed 'flow-wrap cold-seal' packaging line. The company suggested it represents a world-first for a process that, in the past, was only suitable for plastic films and laminates.
The R&D team started work on the project 18 months ago although it was said to have been "accelerated" ten months ago. It has developed the wrapper in conjunction with an unnamed packaging partner.
The challenge was to find a way to use paper on high-speed production lines that have been designed for more durable plastic or laminate packaging. The new wrapper then had to be tested extensively to make sure it would keep Yes! bars in perfect condition during production, transport and storage.
The Switzerland-based company said limitations on the supply of specially-adapted paper used by its packaging partner means it has no plans, at least in the short term, to roll out the technology for its best-selling confectionery products such as KitKat.
Nestlé's Yes! range of fruit-based and nut-based bars – introduced last year – will be wrapped in recyclable paper wrappers from this month.
Stefano Agostini, chief executive officer for Nestlé in the UK and Ireland, said: "Last year we introduced Yes! as an entirely new brand using wholesome ingredients and offering a healthier snacking option of tasty fruit and nut bars.
"Now we've turned our attention to the wrapper so that the packaging is sustainable and easy to recycle. It's an important step as we work to make all of our packaging recyclable or reusable by 2025."
Yes! bar wrappers will now carry the message "carefully wrapped in paper" to reflect the work that has been done in adapting production lines to handle the new packaging more gently during the manufacturing process.
The new packaging is made of a coated paper said to be widely recyclable with other paper. The paper itself comes from sustainable sources, certified by the Forest Stewardship Council (FSC) or The Programme for the Endorsement of Forest Certification.
Asked whether it is likely the paper wrappers will be rolled out for the company's most popular confectionery brands such as KitKat, Jas Scott de Martinville, global confectionery R&D lead for Nestlé, told just-food: "Is there enough paper for us to switch supplies? The answer is no. This needs to be an evolution."
Bruce Funnell, Nestlé's packaging lead in York, added: "We need to work with our packaging partner. They have invested in this technology but it is still in the scale-up stage."
Nestlé is introducing three new flavours of Yes! bar to coincide with introduction of the new paper wrapper. Delicious Dark Choc, Banana & Pecan, Luscious Raspberry & Chia Seeds and Heavenly Pineapple & Coconut will be added to the existing roster.
The Yes! bars in their new paper packaging are also being launched in more countries. They will now be available in Austria, Belgium, the Czech Republic, France, Germany, Ireland, Luxembourg, Malta, the Netherlands, Portugal, Slovakia, Spain, and the UK.