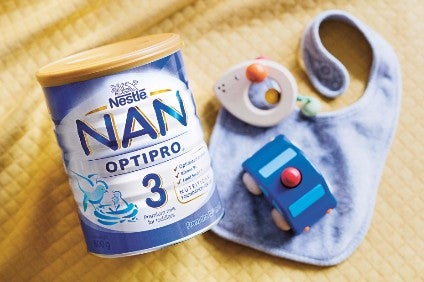 Global food heavyweight Nestle has defended itself against a pressure group's criticism of its baby milk.
The Switzerland-based company insisted it respects international marketing standards and does not suggest its products are better than breast milk.
It was responding to a report by the Changing Markets Foundation criticising the claims made about its products.
In a statement Nestle, which owns baby food brands include Gerber, said it complies with the World Health Organization code on marketing breast milk substitutes and applies its own policy when it is stricter than national legislation.
"Nestle ensures that the composition of its formulas is strictly informed by the best available science," it said.
"Nestle does not use any statements on its infant formula products or in its other communications that idealise its products or imply they are superior to or equivalent to breast milk,"
The Changing Markets Foundation report suggested Nestle had many inconsistencies across its range of formula products and cast doubt on the credibility of some of its health claims.
The Foundation, which says it seeks to "expose irresponsible corporate practices and drive change towards a more sustainable economy", highlighted the use of sucrose in Nestle's infant formula in some markets but not others.
It said Nestle's infant milks sold in Brazil and Hong Kong advise parents against giving sucrose to infants, in line with experts including The European Food Safety Authority. By contrast, the Foundation said it had found "at least two of Nestle's infant milks" on sale in South Africa containing sucrose.
In its statement Nestle said: "Contrary to what the report states, we do not use sucrose in any of our products for infants (zero-to-six months), and we are voluntarily eliminating sucrose from all other follow-on formula products (six to 12 months), which will be completed before the end of 2018 for this age range. As of today, sucrose is present in less than 10% of our recipes for this age range."
The Foundation also pointed to some of Nestle's infant milks on sale in Hong Kong as being marketed as healthier for not having "any added vanilla flavour or flavourings for baby's good growth", again in line with health advice.
However, it claimed "many of Nestle's other products" Hong Kong, mainland China and South Africa, list the flavourings ethyl vanillin and vanillin in their product ingredients.
In response, Nestle's statement said: "The report mentions specific statements that we make on our products in the US, Hong Kong, Switzerland and Spain. All these statements are compliant with regulatory requirements in these countries. We do not use any statements on our infant formula products or in our other communications that idealise our products or imply they are superior to or equivalent to breast milk.
"Modern infant formulas are compositionally closer to human milk. As such, we permit communications stating that our infant formula ingredients are 'inspired by breast milk' or contain components comparable with components of breast milk. For example, proteins or human milk oligosaccharides (HMOs), where these are scientifically proven as equivalent. This does not breach the WHO Code as implemented by national governments or our own stringent policy when it is stricter than the national code."