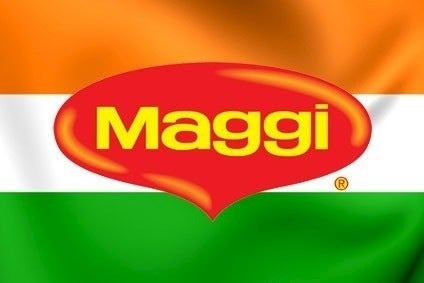 Fresh tests of Maggi noodles ordered by the Bombay High Court have returned negative for excess levels of lead, meaning Nestle has moved a step closer to resuming Maggi sales in India.
The results mean Nestle can restart production but it has to wait for tests on those batches before it can return Maggi to the market.
"We have received test results from all three laboratories mandated by the Hon'ble Bombay High Court to test Maggi noodles samples. All the 90 samples, covering six variants, tested by these laboratories are clear with lead much below the permissible limits," Nestle said today (16 October).
The High Court ordered Maggi products to be retested when it overturned a ban on the sale of the noodles implemented by the Food Safety and Standards Authority of India and the food safety body in the state of Maharashtra.
The FSSAI prohibited the sale of Maggi noodles in June after claiming tests detected levels of lead higher than those permitted under Indian regulations. The noodles were also said to contain MSG despite being labelled as free from the ingredient.
Nestle, however, maintained its noodles were safe and contested the validity of the FSSAI's testing procedures. The company claimed its own tests – and those conducted by an independent accredited laboratories in India and internationally – found no indication of high lead levels.
The results mean the company will now restart manufacturing Maggi noodles in India. However, crucially, it can only resume sales of the product after tests on the newly-manufactured noodles return negative for lead from the three laboratories designated by the Bombay High Court. "We are committed to reintroduce our beloved Maggi noodles at the earliest," a spokesperson said in a statement.
"Nestle India has always maintained that Maggi noodles are safe. Nestle India has conducted over 3,500 tests representing over 200m packs in both national as well as international accredited laboratories and all reports are clear. In addition to these, various countries including [the] USA, UK, Singapore, Australia and others have found Maggi noodles manufactured in India safe for consumption.
"Nestle will continue to collaborate with the FSSAI, the apex food regulator and other stakeholders."
The affair, which started in May, has dented Nestle's sales in India, where Maggi accounts for a quarter of the company's revenue. The impact on Nestle's global turnover was brought into focus today when the company reported nine-month sales that missed analyst expectations, prompting the group to cut its forecast for annual organic sales.