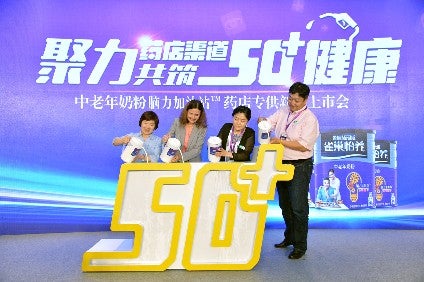 Nestle is claiming it can boost the brain-power of the middle-aged and elderly in China with a new functional food.
Yiyang Fuel For the Brain senior milk powder, described as an "innovative" product, is aimed at those aged over 50 to help slow down brain ageing and even prevent and control various geriatric diseases. As part of Nestle's Yiyang range, it joins a line-up of protein and nutrition powders targeted at the adult nutrition market.
China has an ageing population, with around 25% of the population being over 50. It is predicted by 2050 the country over-50s could represent up to half the population, up from just over 28% in 2010.
The main source of energy for the brain is glucose but, as humans age, their ability to uptake glucose diminishes, so the brain cannot always get all the fuel it requires.
Marianne Tsanis, the vice-president of Nestlé's dairy business unit in the Greater China region, said the new milk powders contain medium chain triglycerides (MCT) that can be used by the brain in the absence of glucose to be converted into ketone.
Nestle provided a statement from brain health expert Guowei Huang from Tianjin Medical University in eastern China, who said: "Compared with healthy young people, the brain of the elderly utilises glucose at only 85-90% the rate of young people while patients with Alzheimer's disease utilise only around 75%. Studies have shown that medium-chain triglycerides (MCT) can be converted into ketone bodies and serve as an alternative source of energy for the minds of the elderly."
According to Nestle, Chinese consumers tend to focus on cure rather than prevention and after a certain age, nutrition and diet can play a key role in slowing down the ageing process.
"Nestle Yiyang has always been committed to providing healthy ideas and nutrition programs for people above 50 years old," Tsanis added. "We advocate the middle-aged and the elderly to be more proactive in managing their own health, and we also call on everyone no matter what age to pay more attention to their nutrition and health. As an old Chinese saying goes, 'diet cures more than the doctors'."
The Yiyang milk powder comes in four varieties; Yiyang Jianxin Gold 2 in 1 Formula, Yiyang Omega 3:6, Jianxin Senior Milk powder and Yiyang Protects aimed variously at boosting bones, heart, digestive health as well as cognitive ability.
At the time of writing, Nestle had not responded to a request for details on where the new product is being listed.