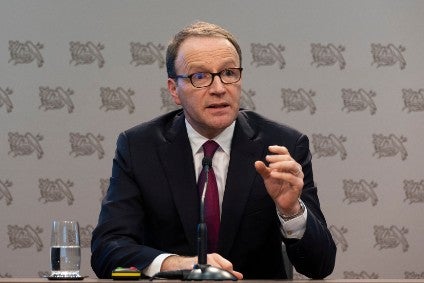 Nestlé has warned the onslaught of inflation driven by commodity, packaging and transport costs is likely to spill over into next year, warranting further price increases by the world's largest food manufacturer.
Inflation is becoming an issue for packaged food producers globally this year, presenting a risk to margins, particularly from higher agricultural ingredients costs, and a subject now regularly flagged on post-results calls.
"From what we can see now, inflation is very much a 2021 and, to some aspect, also a 2022 phenomenon. To what extent it will reach longer than that we don't know yet," CEO Mark Schneider told analysts today (22 April) after reporting Nestlé's first-quarter results.
Organic growth was up 7.7%, above Nestlé's long-term target for "mid-single digit" growth on annual basis. Last year, the print was 3.6%, the fastest pace in five years.
Back in February, the CEO said: "We are seeing an opportunity to potentially cross over the 4% mark, which is important because that defines the entry point to the mid-single-digit rate. This is a possibility, but we can't firmly promise it yet because we don't know how exactly the pandemic is going to shape this year but definitely, we see an opportunity to be above the 3.6%."
On what Nestlé calls a "real internal growth" basis, a metric that strips out prices and M&A, sales increased 6.4% in the first quarter of 2021, with pricing up 1.2%.
Schneider continued: "This is a very volatile environment right now with very low visibility, lots of surprises happening, and again, we will take pricing action, and we have taken some pricing actions already. It's important to stay very close to the margin guidance."
That guidance was reiterated today for 2021 as a whole, with Nestlé forecasting a "continued increase in organic sales growth towards a mid-single-digit rate; underlying trading operating profit margin with continued moderate improvement; [and] underlying earnings per share in constant currency and capital efficiency expected to increase".
Nestlé CFO Francois-Xavier Roger said the company is also seeing some inflation from currency depreciation in emerging markets, but it is mainly through raw material costs, packaging and transport.
"We are hedging and forward buying to cover some of this exposure but it only delays the impact for a few months. In addition, hedging is mainly available for key agricultural commodities but it does not really apply for packaging materials and transportation, where price fluctuations go immediately to the P&L."
Schneider alluded to his food manufacturing counterparts also experiencing the same issues with inflation but at the same time pointed to the pain it can cause retailers and customers.
"I think you are seeing, as you look at various quarterly updates, a very consistent picture here from our peers as well. And obviously that is not lost on the public, consumers and retail partners. So I think that's giving us hope here that pricing action, where appropriate and where warranted by the cost increases, is possible," he said.
Nestlé reported sales for the quarter of CHF21.1bn (US$23bn), an increase of 1.3% on a reported basis. Roger said there are "early signs of recovery" in the out-of-home channel, a sector severely hit by the coronavirus lockdowns. Sales in that channel were down 11.6% having fallen 30.4% in 2020. Retail sales were up 9.2%.
Roger said retail sales are expected to "moderate" through the rest of the year as economies start to open up again but will remain at higher levels than in 2019.
Martin Deboo, an analyst at investment bank and financial services firm Jefferies, wrote in a research note earlier today there would be a "debate…around why guidance isn't being upgraded, given that solid [mid-single-digit] growth for the year now looks well within reach".
Schneider addressed that observation: "In light of the exceptional growth in Q1, our guidance may appear to be conservative to you. Our confidence level of getting to an organic sales growth rate of more than 4% has certainly increased on the back of our Q1 performance.
"We are not aware of any material items that might stand in the way. Our cautious revenue growth guidance at this point is mainly based on two reasons: The level of comparison for the second half of the year is going to be significantly higher, and we want to have one more quarter of visibility with regards to the Covid recovery before we revisit our 2021 growth guidance."