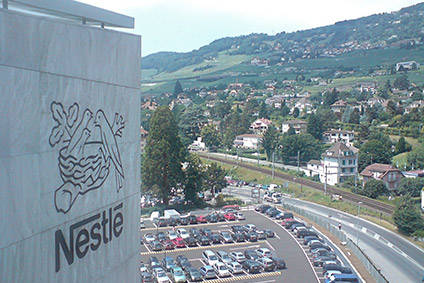 Nestle missed analyst expectations when it booked lower full-year sales and trading operating profit this morning (18 February).
The group unveiled total sales of CHF88.79bn (US$89.5bn), a decline from last year's sales of CHF91.61bn and below consensus analyst estimates of CHF89.69bn. Nestle said currency exchange trimmed 7.4% of the result.
Organic growth stood at 4.2%, with pricing contributing 2% to the result and volume expansion adding 2.2%. Delivering its nine-month results, Nestle had lowered its organic sales forecast to "around" 4.5% – below previous guidance of 5% organic growth.
CEO Paul Bulcke said the top-line performance was thanks to the group's ability to "grow or maintain" market share across the "majority" of its categories and markets.
MainFirst analyst Alain Oberhuber said the company's growth is now "in line" with its peers Danone and Unilever . However, he added Nestle "has less potential for margin expansion".
Nestle's trading operating profit missed MainFirst's forecast of CHF13.75bn – which would have represented a 2% drop year-on-year. Oberhuber said MainFirst's forecast was similar to the consenus forecast among analysts
Nestle's trading operating profit totaled CHF13.38bn, down 4.5% from CHF14.02bn in 2014. Operating profit was higher, however, rising to CHF12.4bn versus CHF10.91bn thanks to what the company defines as lower "other operating expenses".
Net earnings dropped to CFH9.46bn from CHF14.9bn as the company lapped one-time gains in 2014 including the sale of part of its stake in L'Oreal.
Looking to 2016, Nestle forecast organic growth rates "similar to 2015". Bernstein analyst Andrew Wood noted: "Guidance for 2016 was also below our expectations. We had expected top-line growth guidance of "around 5%" with margins and EPS growth in constant FX… Before this reporting we expected an improvement in performance in 2016, with +4.8% organic growth, +25bps margin growth and +8% EPS growth…which now looks slightly optimistic."
Nestle's full-year results by division