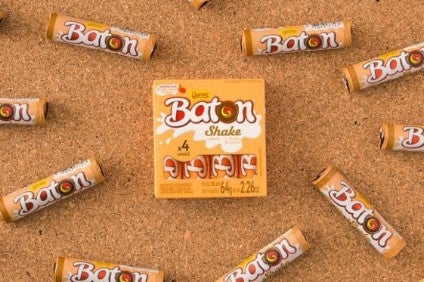 Nestle has confirmed it remains in talks in Brazil to try to secure regulatory clearance for the full takeover of local confectioner Garoto – discussions that could lead to assets being sold.
The world's largest food maker moved to buy Garoto, the owner of brands including Baton and Talento, in 2002.
However, two years later, Brazil's anti-trust body, the Administrative Council for Economic Defense (Cade), prevented the deal from going through, saying it would hit competition in the domestic chocolate market.
Nestle has been able to keep investing at the Garoto production site in Vila Velha in eastern Brazil, although it has had to keep management separate.
Unnamed sources have told Brazilian newspaper O Estado de Sao Paulo Nestle must offload a clutch of small brands in Brazil in order to get approval to take over Garoto fully. The sources told the newspaper brands that could be sold include Serenata de Amor, Chokito, Lollo and Sensação.
When approached by just-food, Nestle's Brazilian business said: "Nestle Brasil is working to implement the proposed solution approved by the Administrative Council for Economic Defense in October 2016 to resolve the antitrust issue that emerged from the acquisition of Chocolates Garoto in 2002, – sub-judice since 2005.
"The solution that is underway proposes a disinvestment package by the company but fully preserves the factory installed in Vila Velha. In view of the confidentiality involved in the negotiation, Nestle cannot make any additional comments until the proposal is fully implemented."