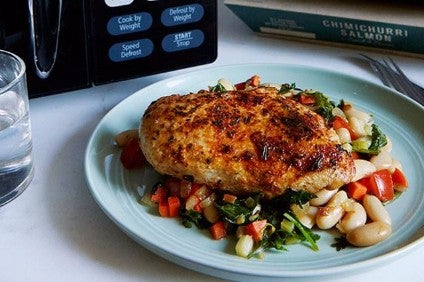 Nestle has acquired a minority stake in US online meal-kit service Freshly, the latest investment a packaged food major has made in the category.
The world's largest food maker did not disclose the size of stake it has bought in Freshly but said it was "the lead investor in the US$77m round of new funding" that was announced by Freshly yesterday (20 June).
"While most food choices are still made in supermarkets, it's clear that consumers are responding to a growing universe of direct-to-consumer options, made possible through innovation," Paul Grimwood, chairman and CEO of Nestle's business in the US, said. "Acquiring a position in Freshly not only gives us access to this growth market, but it also brings reciprocal benefits for both companies. Nestle will gain visibility into Freshly's advanced analytics and its highly effective distribution network and Freshly will benefit from our R&D, nutrition and sourcing expertise."
Some of the major packaged food companies operating in the US have been eyeing the fledgling channel, dubbed direct-to-consumer.
Earlier this year, Campbell Soup Co. backed, as the sole investor, US direct-to-consumer personalised food and nutrition start-up Habit and, more recently, made a $10m investment in US meal-kit start-up Chef'd.
Unilever, meanwhile, last month led a $9m investment in US meal-kit start-up Sun Basket.
Nestle's investment in Freshly comes days after the Swiss food giant said it was reviewing its options for its confectionery business in the US, a process that could lead to the division being sold.
Jeff Hamilton, the head of Nestle's food business in the US, will take a seat on the Freshly board. He said: "Freshly is directly aligned with Nestle's strategic focus on finding new avenues to deliver delicious, nutritious meals to consumers in a way that fits their busy lives. The company was founded by time-constrained professionals who did not have time to cook, but wanted to eat healthy meals. Two years later, their goal to offer heat-and-serve meals has become a successful business that reflects America's changing eating habits."
Nestle said its investment would help New York-headquartered Freshly, set up in 2015, to build a kitchen and distribution centre in Savage in Maryland next year. Freshly, which already has a facility in Phoenix, is eyeing nationwide coverage.
Freshly CEO Michael Wystrach said: "This investment and close partnership will allow Freshly to continue to expand and rapidly scale our reach in order to achieve our goal of being in every household in America."
Direct-to-consumer to play minor role in US grocery e-commerce – a column from just-food's US columnist Victor Martino