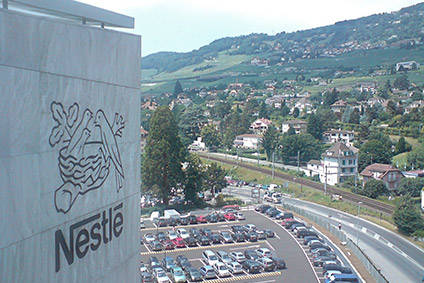 Nestle has outlined a fresh target to cut the sodium in its food – while admitting it needed to push back its goal for reducing the amount of saturated fat used in its portfolio.
The world's largest food maker today (7 March) announced a series of "2020 commitments" on areas including nutrition and on its impact on the environment.
By the start of the next decade, the Maggi maker wants to have lowered the sodium in its food by 10% "to support individuals and families in meeting global recommendations", the company said.
Nestle said it had already cut the amount of sodium in products that did not meet its own Nestle Nutrition Foundation criteria by 10% by the end of last year. Those criteria include limits on ingredients such as added sugars, sodium and fats.
However, the company behind brands including KitKat and Aero said it needed to give itself more time on a target set out in 2014 on saturated fat.
Three years ago, the business said it would cut the saturated fat in the products that did not meet the Nestle Nutrition Foundation criteria by 10%. By the end of last year, Nestle had managed to lower saturated fat by 6.5%; it said today it would aim to "complete the commitment" by 2020.
"Developing new technologies, carrying out stability studies and investing in equipment are required to reduce saturated fats across our portfolio. To complete these activities, while offering tastier and healthier choices to our consumers, we require more time and have therefore extended the deadline for this specific commitment," Nestle said.
Today's 2020 commitments also included Nestle's new target to reduce sugar, which it first outlined last month. The company announced a "global commitment" to cut the sugar in its food by 5% by 2020.
Nestle, meanwhile, has set a goal of removing all artificial colours from its food by 2020. Its targets on advertising and packaging include moves to "gradually increase the proportion of guidance on portions provided through product form, pack design, serving device or dispenser to make it even more intuitive than on-pack messaging".
On the environment, Nestle's pledges including aiming to "drive alliances with relevant stakeholders to address packaging waste management and marine littering in ten relevant markets". Another new commitment from the company is to "make date labels understandable to our consumers in order to reduce food waste at consumption stage".