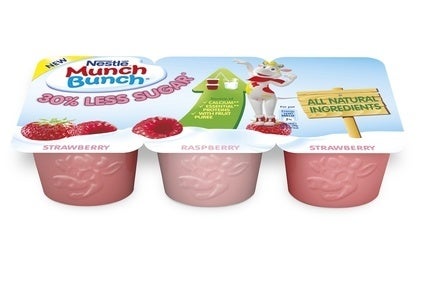 Nestle and Lactalis' chilled desserts venture has rolled out a reduced-sugar variant of its Munch Bunch fromage frais range in the UK and Ireland.
A spokesperson confirmed to just-food the new line, which will contain 30% less sugar than the original, will sit alongside the original.
"Munch Bunch hasn't reduced sugar for its entire fromage frais range because we wanted to offer options in relation to both sugar content and taste in the dairy goodness we offer children," a spokesperson for Nestle said.
Nestle said the move builds on work it has been doing "to help people consume healthier diets" since its UK office became a partner of the Responsibility Deal in 2011.
UK public health minister Jane Ellison said: "With more and more families looking to swap to lower sugar options, new products like this are a vital part of making it easier to make that healthier choice. I encourage all businesses to extend this approach across their ranges."
Nestle and Lactalis formed the joint venture in 2006. The business has the Ski and Munch Bunch yoghurts as part of its portfolio in the UK.