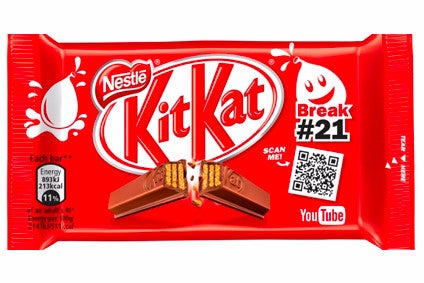 Nestle is teaming up with Google to launch QR codes on specially-branded KitKat wrappers so consumers can watch a selection of videos on YouTube when they take a snack break.
The codes, which will appear on 47 million limited-edition KitKat bars outside the US, will allow smart phone users to scan the QR and watch one of 74 YouTube videos covering sport, comedy, music or gaming.
Nestle said the campaign is the latest link-up between KitKat and Google. In 2013, Google named its Android operating system v4.4 'KitKat'. Last year, the YouTube logo replaced KitKat on more than 600,000 limited edition packs while users could also ask Google's voice search technology to 'YouTube my break' and be linked to a video.
Andrew McIver, managing director of Nestle's confectionery businesses in the UK and Ireland, said: "We know people want the space in their day to escape with a small break and research shows that 36% of YouTube users will watch a video for exactly that purpose."