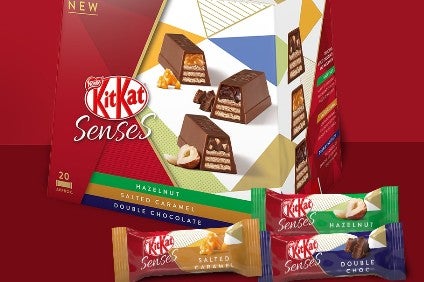 just-food publishes the most notable product development from the international food sector, presented in bitesize format to give you a flavour of the innovation from your peers and competitors announced this week.
Nestle launches KitKat Senses in UK
The UK is to see what Nestle is calling a "more indulgent" KitKat.
In Nestle's latest bid to tap into demand for more "premium" chocolate, the Swiss food giant is rolling out KitKat Senses, sold in boxes of 20 bars.
"KitKat Senses is a more premium format that gives people the opportunity to enjoy their favourite KitKat in a different way, it's ideal for sharing with friends and family, looks great on the table and makes a perfect gift," Alex Gonnella, the marketing director within Nestle's UK confectionery business, said.
The bars are available in hazelnut, double chocolate and salted caramel varieties. They will be available from 27 February in two varieties: a mixed box that contains all three flavours, as well as a hazelnut only box. Tesco is stocking the Senses initially, with other retailers from mid-March.
General Mills set to take Oui yogurt concept to UK
US giant General Mills has indicated it plans to launch a product in the UK similar to the Oui yogurt it markets in its domestic market.
Speaking at the Consumer Analyst Group of New York investment conference in the US this week, General Mills CEO Jeff Harmening said the new product – set to be sold under the company's Liberté brand – was an example of its strategy of taking "product ideas" from one market to other countries.
"As a result of our new organisation structure, we're sharing ideas better globally than we ever have before," Harmening said. "We launched Oui yogurt in July this past year in the US. It's now 10 percent of our US business. It's the best selling yogurt in the US yogurt category for the last many years. But I also want to tell you, we're watching something very similar to that in the UK next month.
"We have taken what we have done on Oui, we've applied it to the UK. Now in the UK they don't call them glass jars they call them pots. They don't sell them one at a time, they sell them in two and we don't use the Yoplait brand, we use the Liberté brand – but make no mistake the stuff in the pot or the glass jar is the same."
Danone launches Mmmh! desserts in Spain
French dairy giant Danone has launched a new range of desserts in the Spanish market under the Mmmh! brand,
The company said it is aiming to woo younger customers with the range, which is made up of seven varieties.
It includes four puddings and three mousses: egg custard, flan coffee flavour, 0% egg custard, custard flavour chocolate, milk chocolate mousse, chocolate mousse black and white chocolate mousse.
The custards are presented in packs of two units and the mousses in 200g cartons.
It says the smaller two unit packs reflect the fact that six out of ten households are composed of two or fewer people.
The mousses have a RRP of EUR1.59 (US$1.95) while the custards will retail at EUR1.19.
Orkla unveils Superpasta
Scandinavian food group Orkla's Swedish arm has launched a new 'healthy' pasta product.
Superpasta is launched under the Paulu brand in three varieties – tagliatelle, fusilli and rigatoni – and is made without wheat flour. Ingredients include sweet potatoes, eggs and lentils which, Orkla, says, gives it a buckwheat consistency.
Orkla points out it contains more than twice as much fibre and protein as regular pasta.
Marketing manager Nina Sandström said: "Paulu's Superpasta has a unique combination of ingredients that gives a mild and nice taste."
Its RRP is SEK35 (US$4.31).
Mondelez, Unilever team up in India
Mondelez International and Unilever have joined forces in India, using one of the US snacks giant's flagship brands in the launch of the world's largest ice-cream maker's latest Cornetto product in the country.
The Cornetto Oreo is on sale "across all major stores across India at INR60 (US$0.93) a cone", Mondelez said.
Sudhanshu Nagpal, the head of Mondelez's biscuits business in India, said, "Oreo today is the largest selling premium cookie brand in the world. Our concerted marketing efforts over the years has made 'twist, lick, dunk' a ritual across India. In a short span of six years, India has emerged among its top five markets by volume. We believe in bringing delicious moments of joy to our consumers and the Cornetto-Oreo partnership will be an exciting one."
Starburst chewing gum launched in UK
Mars is taking its Starburst sweets brand into the UK chewing gum category.
The US giant is launching a range of three products – Fruity Mixies, Strawberry Cubes and Red Berry Sticks – in a move it said would bring an "innovative, candy-like experience" to the market.
The company said the UK gum category had seen "a 20% decline in penetration from the younger generation" over the last decade. It said the new products would appeal to 15-24 year olds, "where fruit gum significantly over-indexes".
UK baby-food firm Little Dish widens range
UK children's food maker Little Dish has moved to broaden its product portfolio in its domestic market.
The company is launching rice cakes and fruit snacks and says snacks are "a vital component of a young child's diet".
Little Dish nutritionist Lucy Jones said: "Because their stomachs are so tiny, it's almost impossible for babies and toddlers to get all of the nutrients they need from three meals alone. That's why the right snacks play such an important part in their diet."
The rice cakes, which Little Dish claims contain "30% less sugar than other baby rice cakes", are available in apple & mango and blueberry & beetroot varieties. They have a recommended retail price of GBP1.10 for a 40g pack.
The Fruity Bites, also available in two varieties of original and carrot cake, contain no added sugar. A six-pack of 25g bags have an RRP of GBP2.75. Both products are available at Tesco and Morrisons stores.
Last year, Little Dish, set up in 2006, sold a stake to US fund Profile Capital Management to boost growth and fund its entry into the American market.
Symington's adds to Naked line
UK food group Symington's, the owner of the Naked Noodle brand, is launching a rice product to be marketed under the Naked brand.
The company has developed four flavours of its Naked Rice, including Chicken Katsu Curry and Char Sui. Symington's has secured listings at Asda "with other retailers expected to follow shortly".
"There's clear demand for authentic tasting, convenient and filling snacks, and with three quarters of Naked Noodle consumers also purchasing convenience rice products, we felt there was a massive opportunity to capitalise on," Mike Benton, the head of Symington's snacking product business unit, said.