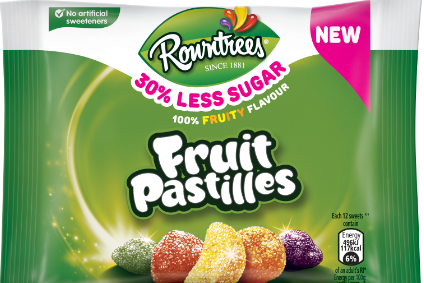 Nestle has unveiled 30% reduced-sugar versions of its Rowntree's Fruit Pastilles and Rowntree's Randoms confectionery in the UK.
A Nestle spokesperson said: "This is the result of two years of research and development to create great, alternative products with a great taste and a 30% sugar reduction."
Nestle said the company spent months testing "more than 76 versions of the recipes" to create the new products, which contain "absolutely no artificial sweeteners".
The new products are additions to the Rowntree's range. The existing Fruit Pastilles and Randoms lines will remain on sale.
The launch follows an announcement earlier this month from Nestle's business in the UK and Ireland of plans to lower the sugar in the confectionery the company sells in the two markets by 10% by 2018. Last month, Nestle set out a "global commitment" to cut the sugar in its food by 5% by 2020.
The new reduced-sugar lines will be available from next month in sharing bags and single packs in Tesco stores across the UK. Nestle said the lines will also be available in major retailers nationwide from July, "alongside limited-edition Randoms single packs".
Reduced-sugar Fruit Pastilles in 38g bags will be available at an RRP of GBP0.51 (US$0.64) and GBP1.29 for an 110g sharing pouch. The reduced-sugar Randoms will be available in "limited edition" 38g bags at an RRP of GBP0.51 (GBP1.29 for an 110g sharing pouch).