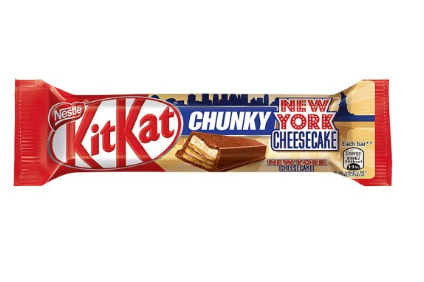 Nestle is looking to stay 'on trend' in the UK in using baked goods to influence new chocolate bar flavours with the launch of a New York cheesecake flavoured chunky KitKat.
The bar is said by the firm to have a balance of sweet vanilla and tanginess from a New York-style cheesecake dessert. Nestlé said the flavour aims to attract new consumers to the KitKat brand.
The latest launch forms part of the company's strategy to "excite" consumers by rotating new flavours each year. Last year KitKat Chunky cookie dough was introduced.
A GBP1.2m (US$1.6m) media campaign will support the new product launch.
The new bar will be available in the UK from 18 September with a recommended retail price of GBP0.65.
In July Nestle announced the launch of a new KitKat factory in Japan flavours tailored to local tastes including wasabi.