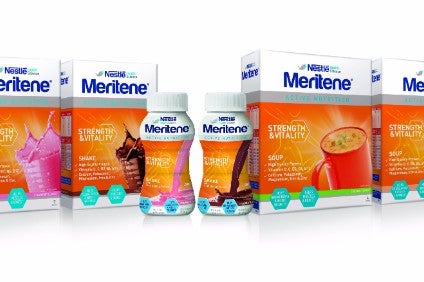 Nestle has secured listings at over 400 Tesco stores in the UK for nutritional drink and snack brand Meritene.
The company said the range, previously available in hospitals and online chemists, would be sold at Tesco and at Boots, the UK's largest pharmacy retailer.
Meritene is also available in continental Europe Nestle said it has devised Meritene drinks, shakes and soups to help consumers aged over 50 take in "the nutrients they need, particularly to help maintain muscle mass and vitamins to assist with tiredness and fatigue". The company says the products are "rich" in vitamins B2 and B6 and contain "high-quality protein".
Nigel Bathurst, the managing director of the food giant's Nestle Health Science arm in the UK, said: "We all know that our nutritional needs change throughout life, but what we have discovered is that the needs of the 50+ age group are especially unique."
Some 416 Tesco stores are stocking Meritene products, Nestle said.