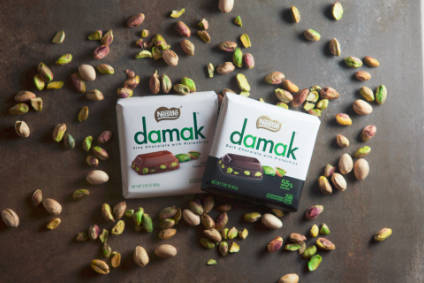 Nestle is launching Damak, its premium Turkish chocolate brand, in the US.
The brand combines pistachios and chocolate and is available in a "fine" chocolate bar and a "rich dark" chocolate bar, the company said. The bar is free from artificial flavours and colours, Nestle added.
"Damak chocolate bars are a bold and exotic combination of smooth chocolate and flavourful pistachios, which creates a delightful experience," said brand development manager Shelly Lofino.
"The brand is rich in heritage and offers a one-of-a-kind taste that must be sampled to truly appreciate. As a global leader in the confectionery category, Nestle is proud to share this hallmark brand from our international portfolio with chocolate lovers in the US."
Nestle said that the brand will feed into growing demand for premium chocolate in the US, which is growing at a "double digit" rate. "The premium chocolate segment has experienced an 11% increase over the past 12 months," Nestle noted.