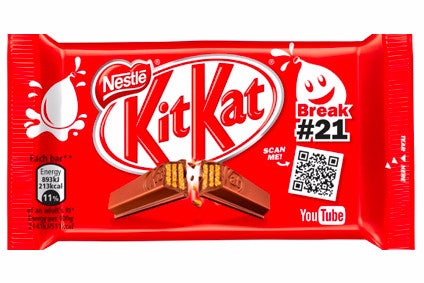 Nestle has lost an appeal against a court decision that had overturned the trade mark protection for the shape of its four-fingered Kit Kat bar in the European Union.
The world's largest food maker attempted to register the shape of its Kit Kat chocolate bars in 2002. However, following a challenge brought by Cadbury , now a subsidiary of Mondelez International , the trade mark was declared invalid in 2011.
The EU's General Court in Luxembourg yesterday (15 December) dismissed Nestle's appeal against the decision and upheld the prior court's conclusion the four-fingered bar shape alone is not "distinctive" enough to communicate commercial origin and therefore warrant trade mark protection. The court found that while the shape was recognised and associated with the chocolate's commercial origin in some markets, this was not the case in all EU member states.
The court concluded: "The applicant's arguments that the public identifies the chocolate bar marketed by the intervener only because of its extensive and constant use of the word mark Kit Kat, both on the packaging of the product known as 'Kit Kat 4 fingers' and on the product itself, must be rejected. For the same reasons, the applicant's arguments that the contested trade mark simply represents the shape of the product known as 'Kit Kat 4 fingers' cannot succeed."
Nestle's attempts to protect the Kit Kat shape globally have come under sustained pressure. In the UK, Nestle lost an appeal to register the confectionery bar's shape and the case is set to go before the UK's High Court for further consideration. Meanwhile, Singapore's Court of Appeal dismissed a move by Nestle to overturn an earlier ruling in the country that said the company's trademarks on the shape of its Kit Kat bar must be removed.
A spokesperson for the company told just-food that it will review the ruling and "consider our position".
"We are pleased that the Court acknowledges that the four finger-shape trademark has acquired distinctiveness in ten member states of the EU, namely the UK, Germany, Austria, France, Italy, Spain, Denmark, Sweden, Finland and Netherlands. The four finger-shape has been used throughout the EU by Nestlé for decades and is known by consumers as being Kit Kat. At the same time, the judgement sets a high threshold for trade mark applicants to register shapes as EU trademarks by requiring evidence of acquired distinctive character in all EU member states," the spokesperson noted.