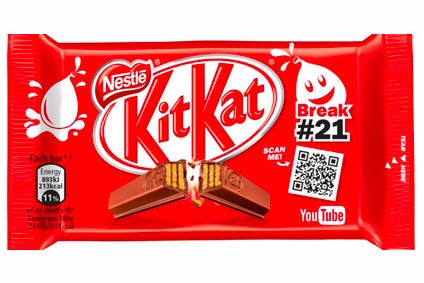 Nestle has lost its latest legal bid to secure trademark protection for its four-fingered Kit Kat.
Court of Appeal judges in the UK rejected the application by the confectionery giant, saying its four-fingered bar was not "distinctive" enough to warrant trademark protection.
The ruling marked the fourth unsuccessful attempt by Nestle to protect Kit Kat. The world's largest food maker attempted to register the shape of its Kit Kat chocolate bars in 2002. However, following a challenge brought by Cadbury, now a subsidiary of Mondelez International, the trade mark was declared invalid in 2011.
In December, Nestle lost an appeal to the European Union's General Court in Luxembourg over the issue. The General Court upheld the challenge by Cadbury UK.
In the latest ruling, three UK Court of Appeal judges said they agreed with earlier judgements that the evidence did not go "as far as to show that the consumer would perceive the (Kit Kat) bars in the basket as originating from Nestle" and not from other confectioners.
"The distinction may be highly technical, but it is important, because of the nature of the trademark, which gives the trader a monopoly for all time," the ruling said.
A Nestle spokesperson told just-food today (17 May) the company was disappointed by the latest legal setback and is considering its next move.
A statement from Nestle said: "This judgement does not mean that our four-finger shape is now free for use in the UK or elsewhere. Nestle's four-finger shape has been granted trademark registration in many countries of the world, for instance Germany, France, Australia, South Africa and Canada, further protecting it from imitations."
Last year, Singapore's Court of Appeal dismissed a move by Nestle to overturn an earlier ruling in the city state that said the company's trademarks on the shape of its Kit Kat bar must be removed.