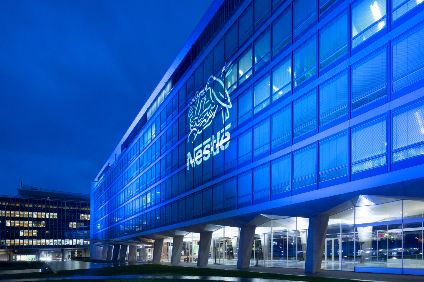 Nestlé has pledged to improve the welfare of chickens used for products sold in Europe under brands including Herta, Buitoni and Maggi.
The world's largest food maker is looking to meet the European Broiler Ask standard by 2026, a scheme covering chicken-rearing issues such as light, stocking density and breeds.
Last year, Unilever made a similar pledge to meet the Ask's criteria for products sold under its Knorr brand by 2024.
Nestlé's announcement, set out today (28 June), adds to a 2024 pledge the Swiss food giant made last year on broiler welfare in the US.
In a statement, Marco Settembri, the CEO of Nestlé's operations in Europe, the Middle East and north Africa, said: "Consumers want to know where their food comes from and how it is made."
Nestlé's European operations use around 10,000 tonnes of chicken products each year, sourcing chicken ingredients within and without the continent.
Speaking to reporters, Olivier Marchand, the global lead at Nestlé for the responsible sourcing of meat and poultry, said the company would work with its broiler suppliers to make changes in a phased manner, with some measures taking longer to implement than others.
"This is going to be done in a phased approach, starting with the actions that we can almost do immediately, enriching the environment of chickens – creating perches, giving them access to more natural light and higher light intensity. These are things that can easily be done. Other things like reducing the stocking density or using breeds of birds that grow slower are things that will take a little bit more time to implement."
Nestlé will look to change suppliers if they are not able to meet the new, higher standards the manufacturer wants to achieve in Europe.
Marchand conceded there could be higher costs for suppliers but insisted Nestlé's plans could present longer-term opportunities for suppliers.
"We want to adopt the same model we have applied for pork in France. We call it the Préférence programme. We have Nestlé people who go to the farms, verify practices at farm level and, through this, the farmers get a longer-term contract – a guarantee of supply to Nestlé, which makes it easier for them to apply for investment. It's a long-term supply partnership between Nestlé and the farmer. These things are going to drive some additional costs for the farmers and it's going to take time for the whole supply chain to adapt to that and that's why this pledge is by 2026."
Nestlé's experience with its Préférence programme and its decision to lean on that model for its work with broiler suppliers in Europe means France will be the first European country to see products made with chickens raised to the higher standard go on sale, Marchand told just-food. He said those products would be marketed under the Herta brand.
Asked by just-food whether Nestlé would look to push through a price premium to its retail customers due to the work planned to raise welfare standards for chicken, Wayne England, the head of the company's strategic business unit for food, said: "Not as a strategy, no. We are working on the total value chain to make sure we minimise any increase in cost."
England also sought to set out the ways in which the company would look to help farmers. "This is part of our programme to transform our products with different types of ingredients. We face this on-cost issue quite a few times. We take it from a few parts. We have people on the ground, resources that go and help farmers. We create awareness, we raise the market. Where it is easily done, we start creating a momentum of supply for the farmers. We look at different ways of improving the processes around the supply chain. It's not a one-way fix. There are a few elements we have to address the issue that seems to be the barrier, which seems to be the on-cost of improving things.
Asked what the cost of the changes will be to Nestlé, England added: "I cannot say there will not be an on-cost of some of the raw materials in certain places. We will work with the total value chain and we have managed to prove it [before] that we can reduce costs in other areas to offset the impact on the total costs. When we increase the supplies of certain ingredients, the momentum of supply reduces the costs as scale comes into the supply chain."
More investors are calling on listed food manufacturers to take action in areas such as animal welfare amid rising consumer interest in ethical issues.
England suggested Nestlé was seeing increased interest from investors. "It becomes a discussion point on the table more and more strongly and that's why it's the right thing to do with the information that's coming forward on the treatment of animals, as well as the information coming forward on what consumers and investors are requesting."
The European Broiler Ask commitments include complying with EU animal welfare regulations, regardless of the country of production; a maximum stocking density of 30kg/m2; and least 50 lux of light, including natural light.