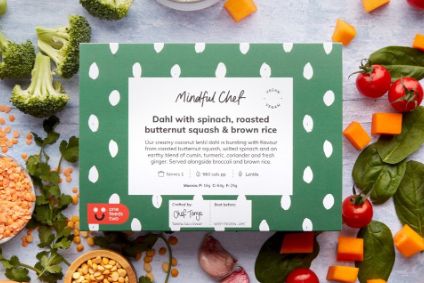 Nestlé has again used M&A to add to its direct-to-consumer services, moving to buy a majority stake in UK recipe-box firm Mindful Chef, a week after a deal to acquire US meals-delivery firm Freshly.
Terms were not disclosed but the transaction comes two months after UK broadcaster Sky News reported the world's largest food maker was looking to buy the London-based meal-kits supplier.
Stefano Agostini, the CEO of Nestlé's operations in the UK and Ireland, said: "Nestlé and Mindful Chef share an ambition to increase the availability and convenience of healthy food while paying close attention to how ingredients are sourced and reducing food waste. It means this is an ideal partnership for both parties as Nestlé continues to transform its portfolio and Mindful Chef accelerates its growth plans."
Mindful Chef was set up in 2015 by Devon friends Myles Hopper, Giles Humphries and Rob Greig-Gran. In February, the firm had embarked on a Series B funding round, which followed backing from investment Piper in 2018, as well as crowdfunding campaigns in each of the previous two years. Mindful Chef's revenues in 2020 are expected to be more than GBP50m (US$65.8m). Details on profits were not disclosed.
Nestlé's acquisition of the majority of Mindful Chef has seen Piper sell its shares. The three founders, who are part of Mindful Chef's management, will remain shareholders and continue to run the business.
Humphries said: "We owe a great deal to these early investors who backed our vision to make healthy eating easy for hundreds of thousands of people across the UK, and it is with great pleasure that we can now reward these investors for their support."
Tim Lee, who joined Mindful Chef as CEO in 2018, added: "Nestlé's experience and support gives us the opportunity to build on this success in the UK and beyond, making healthy-eating easy for more consumers."
Nestlé already has its own direct-to-consumer services in the UK, with its Nepresso coffee business offering delivery and through tails.com, the pet-food business in which the Swiss giant acquired in 2018. Lily's Kitchen, a UK pet-food supplier Nestlé bought this year, also sells directly to consumers.
Last Friday, Nestlé, already a minority investor in Freshly for three years, announced it would buy the rest of the New York-based company in a deal that could value the meal-subscriptions firm at US$1.5bn.
just-food analysis – Data may trump D2C debate as Nestle swoops for Freshly
just-food deep dive, April 2020 – How will Covid-19 shape direct-to-consumer platforms?