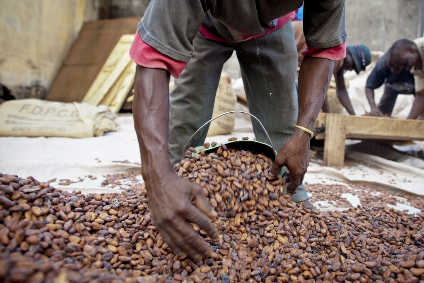 Global chocolate giants Nestlé, Mars, Hershey and Mondelez International, along with agri-food and ingredients heavyweights Cargill, Barry Callebaut and Olam International, have been accused of child slavery in a new US lawsuit.
The Washington DC-based human rights body, International Rights Advocates (IRA), filed the suit in a local court on Friday (12 February) on behalf of eight former child workers who say they were forced to work without pay on cocoa plantations in the west African country of Cote D'Ivoire.
The lawsuit accuses the companies of aiding and abetting the illegal enslavement of "thousands" of children on cocoa farms in their supply chains.
The plaintiffs are originally from Mali and are now young adults. They are seeking damages for forced labour and further compensation for unjust enrichment, negligent supervision and intentional infliction of emotional distress.
In a statement issued alongside its lawsuit, seen by just-food, IRA said: "These companies have a long history of violating the law and participating in a venture in Cote D'Ivoire that relies upon child slaves to produce cheap cocoa.
"In 2001, they signed the 'Harkin-Engle Protocol' in which they explicitly promised consumers and regulators they would stop using child labour by 2005. Instead, they have given themselves numerous unilateral extensions of time and now claim that by 2025 they will reduce by 70% their reliance on child labour.
"Rather than make progress, their use of child labour is actually getting worse. In late 2020, a study by NORC at the University of Chicago and funded by the US Department of Labor, concluded that 1.56 million child labourers were working in cocoa growing areas of Côte d'Ivoire and Ghana in the 2018/19 growing season, an increase of 14% since a 2015 study, and 1.48 million child labourers engaged in hazardous work during this period."
A central allegation of the class action lawsuit is that the defendants, despite not owning the cocoa farms in question, "knowingly profited" from the illegal work of children.
In the claim, all eight plaintiffs, who were under 16 years old at the time of their recruitment, describe being recruited in Mali through trickery and deception, before being trafficked across the border to cocoa farms in Cote D'Ivoire where they were forced to work with no pay, no travel documents and no idea of where they were or how to get back home.
The case is being brought under the Trafficking Victims Protection Reauthorization Act of 2017.
Terry Collingsworth, executive director of IRA, said: "Based on the objective record of twenty years of the failed Harkin-Engle Protocol, these companies will continue to profit from child slavery until they are forced to stop. The purpose of this lawsuit is to force them to stop. Enough is enough. Allowing the enslavement of African children in 2021 to harvest cocoa for major multinational companies is outrageous and must end."
just-food has contacted all seven companies named in the lawsuit, seeking a response to the allegations.
Nestlé said: "Child labour is unacceptable and goes against everything we stand for. Nestlé has explicit policies against it and is unwavering in our dedication to ending it. We remain committed to combatting child labour within the cocoa supply chain and addressing its root causes as part of the Nestlé Cocoa Plan and through collaborative efforts.
"This lawsuit does not advance the shared goal of ending child labour in the cocoa industry. Child labour is a complex, global problem. Tackling this issue is a shared responsibility. All stakeholders - including governments, NGOs, the communities and the broader cocoa industry - need to continue to address its root causes to have an impact."
A spokesperson for Barry Callebaut said: "Any form of child labour has no place in our supply chain. We strongly condemn forced labour, slavery and all practices that exploit both adults and children or expose them to harmful or hazardous conditions. Child labour, which according to the International Labor Organization is widespread in African agriculture, occurs largely on family farms and is defined as children doing work when too young or work that endangers them .The lawsuit brought forward by International Rights Advocates concerns the rare practice of trafficking children to work on farms, which the Ivorian and Ghanaian governments, together with industry, are actively combating. Barry Callebaut has committed to eradicate child labour from its supply chain by 2025."
Olam International said: "Olam has a zero-tolerance policy for forced or slave labour in our supply chain. If we were to identify any instances, we would immediately take action which includes notifying the appropriate authorities."
A Cargill spokesperson said: "We are aware of the filing and while we cannot comment on specifics of this case right now, I want to reinforce we have no tolerance for child labuor in cocoa production. Children belong in school. They deserve safe living conditions and access to good nutrition.
"The cocoa industry, government, NGOs and civil society must collectively do more to address this systemic issue. At Cargill, our resolve to address this has never been stronger and we are accelerating our efforts to address the root causes of child labour. Through our work with CARE International in West Africa for more than a decade we are improving access to education and economically empowering women and cocoa families. We also are partners with ICI to advance programs that monitor and remediate child labour, with a primary focus on protecting children."
Mondelez International said: "As a rule, we don't comment on pending litigation.
"Forced labour and child labour have no place in the cocoa supply chain. Our #CocoaLife program is working to tackle child labour in cocoa by addressing its root causes, including relative poverty of farmers, lack of infrastructure such as running water and roads, and poor access to schools and healthcare. We have been working relentlessly to help resolve the issue of child labour for over a decade. Our approach focuses on prevention, monitoring and remediation, focusing on education as a critical enabler. Identified cases of child labour are remediated with the support of our partner NGOs and the appropriate local and regional authorities."
IRA is currently involved in a separate complaint filed under the Alien Tort Statute against Nestlé and Cargill.