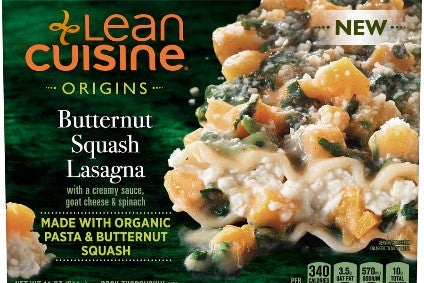 Nestlé has signed a manufacturing and marketing agreement for its Lean Cuisine brand in Australia and New Zealand after its previous partner withdrew from the frozen-food category in the summer.
The 10-year licensing deal was agreed with Vesco Foods, a privately-owned business based in Perth, Australia. The company supplies a range of frozen meals to the retail and foodservice sectors including pasta dishes, pizza and roasts, along with bakery, snacks and sauces products.
Vesco will manufacture the Lean Cuisine brand at its sites in Perth and Brisbane starting in the "coming months", according to a statement from Nestlé.
Andrew Lawrey, the sales director for Nestlé's Australian business, said: "Vesco Foods has a strong position in the frozen-meals category and we are confident they will advance the Lean Cuisine business in the future."
Nestlé's previous partner, Simplot, said in August it would not be renewing its licence with the Swiss food giant for the Lean Cuisine brand in Australia when it expires at the end of November 2019. It has produced and distributed the brand under licence since 2009.
Terms of the new agreement between Nestlé and Vesco have not been disclosed. However, the three companies will work together during the transition period.
Bernie Pummell, Vesco's chief executive, said: "We are excited to partner with Nestlé on the Lean Cuisine brand in Australia and New Zealand. Vesco Foods is a focused ready-meals manufacturer, with a strong track-record of innovation in the category. This is a logical and important growth initiative for us and we look forward to developing and growing the brand in this region."