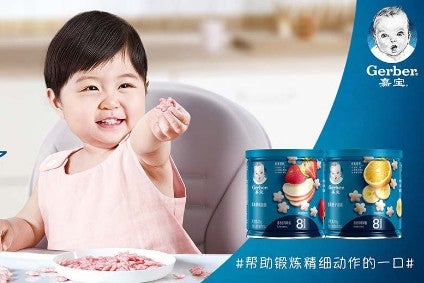 Nestlé has opened a new factory in China for the production of puff baby snacks under its Gerber brand following a CNY100m (US$14.2m) investment.
The site is located in Shuangcheng in the city of Harbin, the provincial capital of Heilongjiang province, and has an annual production capacity of 1,400 tons. The facility marks the first time the Swiss food giant has manufactured Gerber Nutripuffs in China.
The puff products to be produced in China include organic and non-organic varieties in eight different flavours, all in 100% recyclable packaging. Other products in the Gerber baby products range include infant formula, cereals, and fruit and vegetable puree.
Rashid Qureshi, chairman and chief executive of Nestlé's business in Greater China, said: "In the 1980s, Shuangcheng was Nestlé's first location to invest in China. This new factory represents Nestlé's latest investment in Shuangcheng and demonstrates Nestlé's great confidence and firm commitment to the Chinese market."
The raw rice used in Nutripuffs is also sourced locally from Shuangcheng.
Nestlé's other factory in Shuangcheng produces milk powder, cereals and infant formula. The company also launched its Dairy Farming Institute in the same location in 2014.
Yesterday, Bloomberg reported Nestlé is weighing up options for two of its Chinese businesses – Yinlu and Hsu Fu Chi – which have both seen sales come under pressure. Nestlé declined to comment.