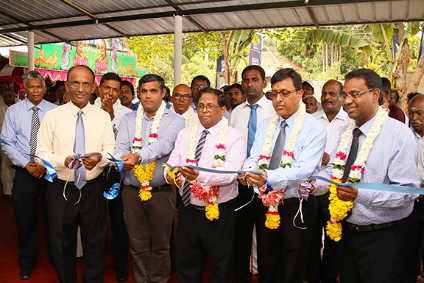 Nestle has marked what it described as a "milestone" in the development of its dairy business in Sri Lanka with the opening of a new facility in Jaffna, expanding its reach in the north of the country.
The new milk chilling plant is located in Urumpirai, a town in the north of Jaffna, itself the capital of Sri Lanka's northern province. Nestle said the facility would enable it to "preserve the quality and freshness" of milk collected in the region. It is equipped with quality testing facilities and farmers will be paid for the quality of milk they supply, the company noted.
Nestle is already the largest private sector milk collector in Sri Lanka, where it produces dairy products under brands including Nespray, Milo and Milkmaid.
"Over the years, we have made intense and determined efforts to procure maximum quantities of fresh milk from the north to help develop the area," said Shivani Hegde, the managing director of the company's local arm, Nestle Lanka. "We remain committed to sourcing fresh milk locally and will continue to provide local consumers with high-quality dairy-based products, enhancing the quality of life and contributing to a healthier future. With the opening of this new milk chilling centre in Urumpirai, we hope to not only increase the supply and quality of milk of our farmers in the north but also provide them [with] a livelihood that is sustainable."
By making payments based on milk quality, Nestle believes it is encouraging farmers to produce more high-quality milk. The company also conducts farmer training and development programmes on issues such as cattle feeding and breeding, animal health, farm management and quality assurance.