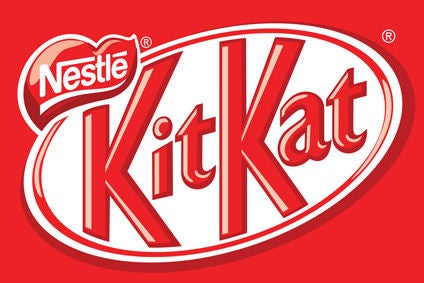 Nestlé has partnered with Deliveroo to provide a range of its confectionery directly to customer's doors in the UK as the Covid-19 crisis makes it difficult for shoppers to get to store.
The service is available through Deliveroo's Essentials delivery platform, with customers ordering via its associated app. KitKat, Rowntree's Fruit Pastilles and Smarties Buttons feature in the line-up, along with bottled San Pellegrino waters and tins or sachets of coffee.
Nestlé said the delivery service is available from 11 Deliveroo Edition sites in the cities of Leeds, London, Manchester and Nottingham.
Alexandre Manoukian, the head of e-commerce at the Swiss giant's Nestlé Professional division, said: "With people not able to just pop to the shop as easily on their lunch break for their favourite drink or snack, it made complete sense for us to be able to work with Deliveroo to bring it directly to their door.
"Deliveroo offer a completely contactless delivery so it means even those having to self-isolate can enjoy a well-deserved treat."
Last month, Nestlé CEO Mark Schneider suggested the food and beverage industries could see greater sales made through e-commerce in the wake of the Covid-19 pandemic. "This is a key area where we saw true significant increases," Schneider said of Nestlé's sales in the first quarter of the year. "I think some of that will be here to stay. One of the side-effects of this crisis will be it will be a breakthrough event when it comes to e-commerce for food and beverage."