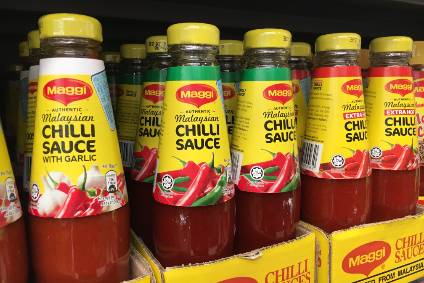 KitKat and Maggi maker Nestlé today (24 April) posted first-quarter sales that beat market expectations, pushing up its shares in early trading.
The world's largest food group also set out a support package, including extended payment terms, worth CHF500m (US$510.9m) for its out-of-home customers.
The Swiss giant bucked a trend among peers and kept in place its guidance for the rest of 2020, issued when the company announced its 2019 results in February – and when it said it was "too early to quantify the financial impact of the coronavirus outbreak".
Nestlé saw its first-quarter sales rise 4.3% on an organic basis. Measured by "real internal growth", a Nestlé metric that strips out M&A and pricing, sales were up 4.7%.
Jefferies analyst Martin Deboo, who described the figures as a "strong start", said the consensus forecast among analysts for Nestlé's first-quarter organic sales was for growth of 3%.
Nestlé CEO Mark Schneider said: "Our company remained resilient in the first quarter, reflecting our diversified product portfolio and our strong local presence in 187 countries. However, this crisis is far from over and we will face many uncertainties in the coming quarters."
On a reported basis, Nestlé's sales fell 6.2% in the first quarter to CHF20.8bn, hit by movements in exchanges rates and the impact of asset disposals, including the sale of the company's US ice-cream business to Froneri, a venture in which the group owns a 50% stake.
Nestlé said its organic growth was "supported by strong momentum" in the Americas and in its EMENA division, which comprises Europe, the Middle East and north Africa.
The group's operations in Asia, Oceania and sub-Saharan Africa posted "negative growth", mainly due to a double-digit sales decline in China.
Nestlé's sales in developed markets rose 7.4% on organic basis. The rate of organic growth in emerging markets was slower at 0.5%.
On its guidance, Nestlé added: "As it is still too early to assess the full impact of Covid-19, we maintain our original full-year 2020 guidance for the time being. We expect continued improvement in organic sales growth and underlying trading operating profit margin. Underlying earnings per share in constant currency and capital efficiency are expected to increase."
Alongside the sales update, Nestlé announced a strategic review for its peanut-milk and porridge business in China, one of the assets in the market that had seen its future become the subject of media speculation.
Shares in Nestlé were up 1.17% at CHF105.92 at 09:35 CET.