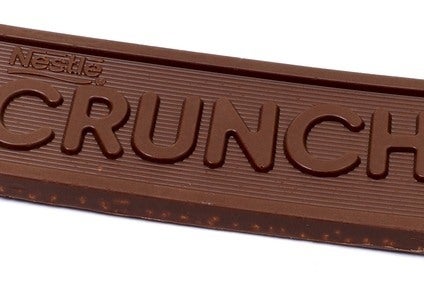 Swiss food giant Nestle is removing artificial flavours and colours from chocolate products sold in the US in response to growing demand for "clean" labels and natural foods.
Nestle's US unit said that it will remove all artificial flavours and artificial colours in more than 250 chocolate products by the end of the year. Nestle will replace the synthetic ingredients with natural ones.
A spokesperson for the group told just-food: "Nestle USA's commitment is that by the end of 2015, all chocolate brands will be made with no artificial flavours, nor FDA-certified colours."
Ingredients from natural sources are also certified as safe by the US Food and Drug Administration, the spokesperson explained.
"As a colour additive, an ingredient must be approved as a colour for use in food by the Food and Drug Administration (FDA). Two main categories make up the FDA's list of permitted colour additives. They are the certified colour additives and the exempt-from-certification colour additives. The certified colour additives are primarily man-made synthetic colours… The exempt colour additives are largely derived from plants, minerals or insects, and while not subject to batch certification, they must meet the requirements for composition and purity as listed in the FDA Code of Federal Regulations. Common exempt-from-certification colour additives include annatto, beet juice, beta carotene, and caramel colouring."
Nestle said the move was prompted by market research that showed US consumers want natural ingredients. More than 60% of Americans surveyed said the absence of artificial colouring or flavouring was a factor in purchase decisions, according to a Nielsen survey cited by the company.
For example, Nestle USA said it will replace certified colours Red 40 and Yellow 5 in the centre of its Butterfinger bars with annatto, which comes from seeds in the fruit of the achiote tree. Crunch chocolates will contain natural vanilla instead of artificial vamillin, the company added. Nestle is also in the process of removing caramel colouring from its chocolate products.
The new products are expected to be available for sale by the middle of next year. The company said it is the first "major" US confectioner to make such a commitment.