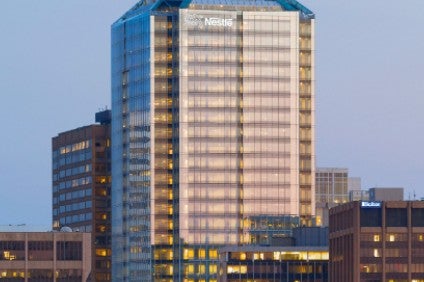 Nestle is restructuring its US business and relocating various support functions, including moving its headquarters in the country from California to Virginia.
The company said over the next two years it will shift the corporate headquarters for its US arm to Arlington County, Virginia. At present, the group's HQ is based in Glendale, California. Nestle acknowledged the impact on jobs was unclear.
Nestle said the move will bring its corporate headquarters closer to its US production base, with around 75% of its factories in the country located on the east coast. The group also stressed 85% of its "top customers" are located in the eastern half of the US while 80% of Nestle products are sold east of the Mississippi.
"With the food and beverage landscape continuing to transform at a rapid pace, Nestle has been innovating and making strategic changes to the business over the past five years. This move is the next step in our evolution," Paul Grimwood, chairman and CEO of Nestle's US business, said. "This location allows us to be closer to our business operations, our customers and other important stakeholders."
A spokesperson for the company told just-food the "majority" of employees based at Nestle's HQ in Glendale will be offered the chance to relocated but added the impact on the group's headcount "remains to be seen".
"We forecast 750 jobs will be based in Arlington when we're fully established there. I would note that this transition will take place over two years and proceeding in this disciplined fashion will help us minimise impact to our businesses," the spokesperson said. "The majority of Glendale-based employees will be offered relocation. A small number of roles are not eligible for relocation. While we hope all our eligible employees will make the transition, some of our people will choose not to move and we understand this. One of the features leading us to this new HQ location is a strong pipeline of talent in the area."
The new headquarters will house Nestle USA's corporate functions, its beverage, confections and global foods divisions, as well its e-business, marketing and nutrition teams.
Elsewhere, Nestle is moving its technical and production organisation and all supply chain teams to its "multi-functional" campus Solon, Ohio. The company has already established Solon as the hub for its frozen and chilled foods businesses and the group manages brands including Stouffer's and Lean Cuisine from the site. Some 2,000 people are employed at the facility and move will add another 300 posts at the site, the spokesperson said.
Additionally, Nestle revealed it is consolidating its IT functions in Missouri, where the group's Purina petcare business is based. "We're also adding 300 [jobs] to St. Louis, which is where Nestle Purina is headquartered, and where we are consolidating our IT operations for the US," the spokesperson explained.