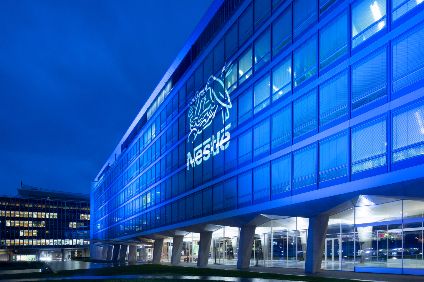 Nestlé booked first-quarter sales that beat market expectations, describing the period as a "solid start" and calling out particular areas of growth.
The world's largest food maker today (18 April) reported a 3.4% increase in its sales on an organic basis for the first quarter of 2019. Stripping out the impact of prices, Nestlé said its "real internal growth" (RIG) was 2.2%. In 2018, the company filed a 3% rise in organic sales, with its real internal growth at 2.5%.
Martin Deboo, an equity analyst covering Nestlé for Jefferies, said the KitKat and Maggi owner's sales growth was "ahead" of analyst consensus forecasts and "well ahead" of the investment bank "despite headwinds from one less invoicing day, a later Easter and an earlier Chinese New Year".
Nevertheless, Nestlé stuck to its guidance for how it expects to perform in 2019 as a whole, a forecast it issued in February, of "continued improvement" in organic sales growth and underlying trading operating profit margin "towards our 2020 targets". Nestlé has a target of achieving an underlying trading operating profit margin of 17.5-18.5% by the decade's end. It stood at 17% in 2018.
"When we held our Q4 conference call in mid-February, we told you to expect a slow start to the year. Q1 came in a little stronger than anticipated but I would like to point out that this is not materially changing for our organic growth expectations for the full-year 2019," Nestlé CEO Mark Schneider told analysts today on a conference call to discuss the first-quarter performance.
Schneider said Nestlé had had a "solid start" to 2019 with "a broad-based year-over-year acceleration in organic growth". He added: "We were particularly encouraged by the acceleration of growth in Brazil and in the continued good growth momentum in the United States and in China."
Brazil has proven a tough market for FMCG companies in recent quarters amid pressure on economic growth and soft consumer demand.
When Nestlé reported its annual financial results for 2018 in February, CFO François-Xavier Roger had described the trading environment in the country as "challenging", but said the company's operations in the market had returned to "positive organic growth in the second half of the year", helped by "stronger pricing and an acceleration of growth across most categories, especially in confectionery and infant nutrition".
Today, Roger said Brazil, which is Nestlé's fourth-largest market, had seen sales rise at a "double-digit" rate. He added: "Pricing increased significantly in Brazil across categories, particularly in dairy, infant nutrition and confectionery."
Barclays analyst Warren Ackerman pressed Nestlé on the make-up of its first-quarter sales in Brazil and asked for guidance on how the market should expect the company's operations in the market to fare during the rest of the year, not least because the business – and others – will, in the second quarter, be lapping a truckers strike that hit consumer-goods sales in the country last spring.
"The comps help a little bit but it goes much beyond that," Roger said. "We grew double-digit in Q1, which obviously we were happy with but it is half volume and half price and we are very encouraged by the development in terms of volume growth. It is true that consumer demand is starting to regain some strength, which does help, but we believe that our innovation pipeline has contributed certainly to it as well. The volume growth has been especially strong in some categories and I would mention dairy – that has experienced a very strong momentum – as well as nutrition and [Nestlé] Professional."
Roger added: "The truckers' strike did not have any impact in Q1. We do expect to get some additional traction in Brazil in Q2 coming from the comps because of the truckers' strike, where we lost a significant part of our business in the month of May last year. We had recovered some of it in June but, net-net in Q2, we had lost some, so it will help us a little bit more in Q2."
Brazil was a contributor to the 3.4% rise – on an organic basis – in sales Nestlé saw from its business in the Americas in the first quarter. The Sweet Earth owner said its operations in North America had "maintained its good sales development" in the first quarter.
"North America carried its good momentum from the end of 2018 into the first quarter as we continued to place emphasis on faster innovation and portfolio management," Roger said. "There was a rebalancing of the growth as pricing increased and became the main driver. RIG was positive. The improvement in pricing was mainly driven by Petcare and Nestle Professional … which were the two main contributors to North America momentum. Frozen food returned to positive growth, led by the Hot Pockets and Stouffer's brands. Innovation and better execution supported growth in frozen."
Nestlé has faced a lot of questions about the future of its US frozen-food arm in its portfolio and the company, announcing its 2018 group results in February, said the unit's sales were flat, although Schneider indicated the division's performance was mixed.
Speaking today, Schneider said: "I tip my hat to the team for the work that has been going on in the last few quarters to aggressively address the situation. We're getting traction here. We're getting traction on Stouffer's. We're getting traction – more traction – on Hot Pockets. And, yes, pizza, as you know from our various quarterly reports last year, was never as much a problem, so pizza continues to run with positive growth.
"Lean Cuisine will take a bit of more time to get traction but I'm as confident as I am for the rest of frozen that the team is actually making good progress. And, as you know, when it comes to that category, overall, we are seeing a renewed interest, especially from younger shoppers and so these efforts are worthwhile and it's important and good work to defend our market position in this category."