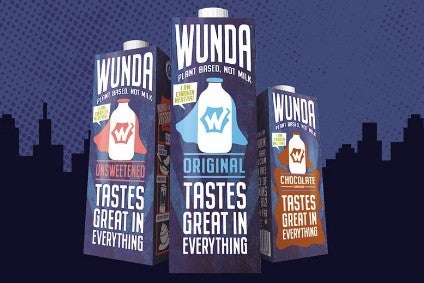 Nestlé has entered the dairy-free milk market with the launch of the pea-alternative brand Wunda in a clutch of European countries as the consumer-goods giant seeks to "disrupt" the category.
Stefan Palzer, Nestlé's chief technology officer, said: "This truly versatile, delicious pea-based beverage is an excellent source of protein and fibre. Its great neutral taste, the ability to use it for different applications and the fact that it is carbon neutral make it an ideal plant-based alternative to milk."
Wunda, which comes in three varieties of original, unsweetened and chocolate, will first launch in France, the Netherlands and Portugal.
Nestlé claims Wunda provides "strong nutritional value compared to similar plant-based beverages on the market", and is low in sugar and fat. The drinks are fortified with calcium and are a source of vitamins D, B2 and B12, with all three varieties ranked the highest level of A under the Nutri-Score nutritional labelling system.
With the launch of non-dairy-based drinks, Nestlé will be up against Alpro owner Danone in France, while there are plenty of other competitors in the European market when it expands distribution: Arla Foods in Denmark, Oatly in Sweden, Valio in Finland and Plenish in the UK, a business acquired this week by beverages giant Britvic.
However, Nestlé said it aims to disrupt the category.
Rani Saab, the business manager for Dairy Beyond the Core at Nestlé, added: "We were trying to create a product that is completely different from what's on the market. Our target market is millennials. Even the cues of the colors are quite unique for us. We wanted to really stand out and break some norms. We were aiming to disrupt the disruptors."
Wunda plant-based drinks will be followed by "other innovations within the dairy-alternative space".
A spokesperson for Nestlé said Wunda will first launch in the Netherlands on 10 May starting with retailer Jumbo, followed a week later in France with a roll-out in Carrefour but was not in a position to provide details on Portugal other than to say the debut will be in major retailers this month.
The spokesperson declined to elaborate on what the future products might be.
Cédric Boehm, the company's head of dairy for Europe, Middle East and north Africa, said: "There is a quiet food revolution underway that is changing how people eat. In Europe, at least four in ten shoppers are already choosing some dairy alternatives. People are asking for better plant-based drinks that are nutritious, versatile and taste great."