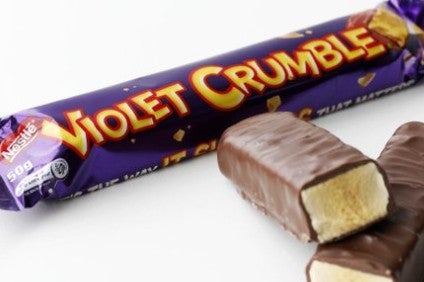 Nestle has entered into an agreement with fellow confectionery business Robern Menz to sell its Australia-based Violet Crumble chocolate bar brand for an undisclosed sum.
Under the sale, Adelaide-based family business Robern Menz will acquire the brand – the Australian equivalent of the more widely known Crunchie bar – and its associated intellectual property, plant and equipment.
Martin Brown, the general manager of Nestle's confectionery business in Australia, said: "The sale of the Violet Crumble brand to Robern Menz recognises that they are well positioned to combine their existing honeycomb manufacturing with that of Violet Crumble and continue to invest behind this well-loved brand."
The Violet Crumble bar was first produced in 1913.
Its sale not only brings the confectionery back under Australian ownership, but also returns it to South Australia, where it was produced by manufacturer Rowntree Hoadley until the mid-1980s.
The deal will create more than 30 jobs at Robern Menz.
Nestle told the BBC at selling the Violet Crumble brand would allow it to focus on its bigger names, including KitKat and Milky Bar.
Violet Crumble bars have been produced at Nestle's factory in Melbourne since 1983.