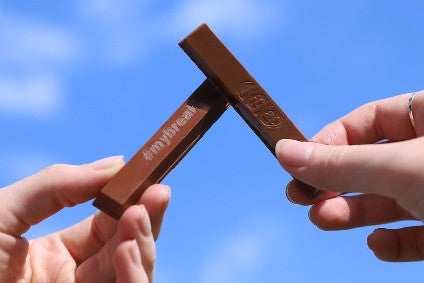 Nestlé has outlined the "top priorities" for its operations in Europe, the Middle East and north Africa when it comes to mitigating the food giant's impact on the environment.
The Switzerland-based company is aiming to halve carbon emissions by 2030 and to be net zero by 2050.
Nestlé says nearly two-thirds of its total emissions are linked to agriculture. To tackle those emissions, the company said it will change with its suppliers the way food is produced. Farming practices will transition to regenerative agriculture to benefit nature and improve farmer incomes, it said.
The key ingredients for the KitKat chocolate bar brand owner in Europe, the Middle East, and north Africa are cocoa, coffee and milk. With this in mind, the company said it will focus on "healthy soils, net-zero dairy farms, and sustainably-sourced cocoa and coffee".
Marco Settembri, the CEO of Nestlé's operations in Europe, the Middle East and north Africa, said: "Our projects on healthy soils, low-emission dairy farms, and sustainably-sourced cocoa and coffee show promising outcomes. We are confident that those collaborations with farmers and suppliers can be extended to reach our net-zero climate goal."
Nestlé has already announced several initiatives to achieve its 2050 net-zero ambition, including the programmes Living Soils in France and LENs in the UK, which are linked to using fewer or no pesticides and the implementation of techniques such as permanent soil cover, crop rotation, and reduced tillage. Such activities help keep more carbon and water locked up in the ground and create healthier soils.

The company said today it plans to scale up its actions in the dairy supply chain in an attempt to meet its goal of net-zero emissions dairy farms.
Actions include implementing a range of better farming initiatives, such as keeping cows longer, using more local feed, and working on cows' health.

Nestlé also suggested that by 2025, 100% of the cocoa and coffee it uses will be "sustainably sourced". In 2020, the company kicked off a public-private partnership to conserve and restore the Cavally Forest, one of the last remaining biodiversity hotspots in Côte d'Ivoire.

And, by 2025, Nestlé will have all of its 800 global sites using 100% renewable electricity, it said. So far, 80 factories out of around 130 across Europe, the Middle East, and North Africa, use this power source.
Read just-food's analysis - A "moral obligation" ... and "future-proofing" the company - Nestle's mission on emissions