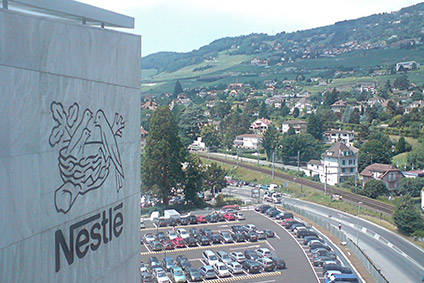 Nestle has outlined plans for cost savings that are deeper than analysts expected, with the world's largest food group looking to put some of the money into supporting its brands.
The KitKat and Maggi maker has an ongoing, annual cost-savings programme the company calls Nestle Continuous Excellence, which it launched in 2008. The initiative for example has saved Nestle CHF1.6bn in each of the last two calendar years.
Speaking to analysts at Nestle's annual investor seminar yesterday (25 May), CFO François-Xavier Roger said the group was looking to "achieve both sales and margins growth" through "structural savings" beyond the Nestle Continuous Excellence programme.
Roger said the structural savings Nestle had identified equate to "over 200 basis points" by 2019/20. Kepler Cheuvreux analyst Jon Cox said that equated to savings worth CHF2.5bn.
Savings will come from programmes including procurement and raising the "asset intensity" of Nestle's operations, Roger added.
The Nestle finance chief said the company plans to use the savings in three areas "brand support", "competitiveness" and "trading operating profit".
At the seminar, Nestle CEO Paul Bulcke said the group remained committed to its so-called "Nestle Model", under which the Milo owner aims to grow sales 5% a year on an organic basis. Nestle has fallen short of the target in recent years and has predicted it will do so again in 2016.
MainFirst analyst Alain Oberhuber said the publication of the savings target was "a positive surprise". Oberhuber said part of the savings would be used to try to get Nestle to hit its target for organic sales.
"The company was not explicit about how much of these incremental cost savings will flow to margin improvements. We believe that the incremental cost savings will be used to spur revenue organic growth in order to hit the +5-6% level again," Oberhuber wrote in a note to clients this morning. "Cost discipline is vital to free up cash to fuel organic growth rate in the future. Nestlé is benefiting in terms of size but not enough in scale. Procurement leverage on scale through global sourcing should increase from 40% today to 60%. Nestlé will consolidate G&A expenses in the markets, delay functions, improve facility management and increase shared services. There will be broad-based investment for growth. Nestlé will invest this excess cash in its on-line businesses, line extension and portfolio adjustment."
Oberhuber suggested Nestle's plans indicate the company is not pursuing the zero-based budgeting method of cost savings. "We think that Nestlé is not taking the zero-based budgeting (ZBB) route as the current NCE and the structural cost saving program goes beyond that approach. Furthermore, with ZBB there is a risk that organic growth could slow down."