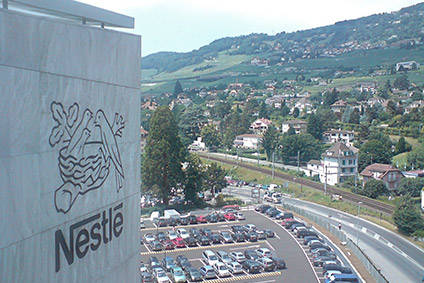 Nestlé is pledging to increase the use of recycled plastics in its European Union packaging as part of a global initiative announced in April.
By 2025, the owner of brands such as KitKat, Lean Cuisine and Buitoni said it will seek to use between 25% and 50% of recycled plastics in its packaging and will start the programme with bottles, caps on glass jars and tins, trays for meat products, shrink film for display trays and PET layered laminates, with the content varying from product to product.
Nestlé's decision comes amid global pressure from governments, industry groups, NGOs and environmentalists for manufacturers to reduce the use of non-biodegradable materials in their products to protect the planet.
The Zurich-listed firm said today (27 September) it is making the pledge to align with a voluntary initiative launched by the European Commission – the European Strategy for Plastics – which has a month-end deadline for companies to sign up.
Under the EC's strategy, stakeholders with an interest in reducing the use of plastics have been asked to submit voluntary pledges. The plan aims to boost the use of recycled plastics and to "ensure that by 2025, ten million tonnes of recycled plastics find their way into new products on the EU market".
In a statement today, Marco Settembri, the chief executive for Nestlé's operations in Europe, the Middle East and north Africa, who personally signed off on the EC scheme, said: "I am proud that we are already taking first concrete steps to achieve our packaging ambitions. Nestlé supports the Plastics Strategy of the European Union. We share the vision that no plastic packaging ends up in the environment. Recyclable packaging, good recycling infrastructure and more use of recycled material will help us close the loop."
The environmental pledge by Nestlé is an extension to the global plan announced in April, whereby it aims to make 100% of its product packaging recyclable or reusable by 2025. At the time, the owner of the Perrier water brand said it would focus on three key areas: eliminating non-recyclable plastics; encouraging the use of plastics that allow better recycling rates; and eliminating or changing complex combinations of packaging materials.
just-food analysis from May 2018: Plastic pledges – reason to be positive or time to panic?