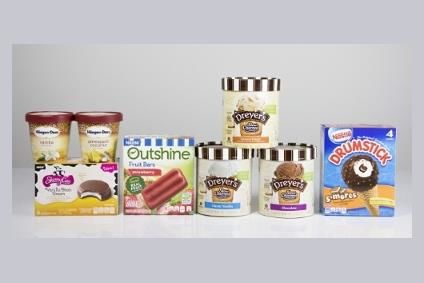 Nestle is "simplifying" the ingredients used in six of its ice cream brands in the US.
The company said it is changing how its namesake ice cream, as well as Edy's, Häagen-Dazs, Outshine, Skinny Cow and Nestle Drumstick, are made.
The changes vary across a portfolio of over 100 products but include the removal of artificial colours, flavours, high fructose corn syrup and GMO ingredients. Various ice creams have also switched to milk from cows not treated with growth hormone rBST and seen the addition of more real fruit or juice. There has also been a reduction of sugar on "select products" of an average of 11%, the company said.
In December last year, the company also announced plans to move to cage-free eggs in its US portfolio, including ice cream, over the next five years.
"Nestle Dreyer's Ice Cream understands that consumers want to know what's in their food, where those ingredients come from and how the food products they purchase are made," said Robert Kilmer, president, Nestle Dreyer's Ice Cream, the firm's US ice cream unit. "We are the industry leader when it comes to innovation and, as consumer demand centres on transparency and choice, we are responding with new ways to make ice cream even better. Using simpler ingredients that our consumers can recognise, and removing those that don't belong, is a natural next step for our brands."
A nationwide rollout of the updated products started last month, Nestle revealed today (20 April).
Announcing the move, Nestle said it represents the "latest milestone" in a "multi-year effort" to update existing products across the entire portfolio of brands. Initiatives to update the ingredients list in order to meet changing consumer preferences have also included Nestle's "reboot" of Lean Cuisine. Back in 2010, Nestle said it would cut salt across its frozen portfolio of brands including Stouffer's, Lean Cuisine, Buitoni, Hot Pockets and Lean Pockets brands.
Last week, the Swiss food giant revealed its sales in the Americas region increased 5% on an organic basis in the first quarter of this year. CEO Paul Bulcke said the turnaround of Nestle's US frozen food business – which is facing pressure from consumer interest in fresh foods, 'clean labels' and better-for-you products – is "progressing well".