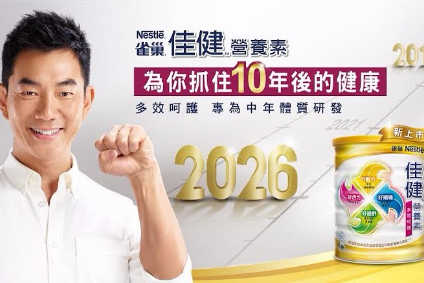 Nestle's Taiwanese arm has told just-food the launch this month of its "upgraded" Nestle Good Health Nutrient is designed to further support eye health among middle-aged consumers – and in particular for those who spend several hours a day using smartphones.
The company said the product, originally launched in 2015 containing vitamin A, has now been upgraded to also include lutein and is targeted at consumers who are aged 40 and older.
Nestle said a study of smartphone users in Taiwan highlighted the need for consumers to pay attention to the health of their eyes. The study showed that the smartphone users spent an average of 8.5 hours online every day, which is longer than the 7.3 hours that the study's participants spent sleeping each evening, the company said.
"This product is a nutrition supplement designed to address the top four health concerns of healthy adults," Nestle said. The product aims to help support good eyesight, give consumers more energy and aid digestion and movement.
PX Mart, a leading supermarket chain in Taiwan, has been awarded a contract to serve as the sole distributor for the product, Nestle said.
According to the National Health Service (NHS) in the UK, the human body is unable to manufacture lutein, so it has to be obtained from food or supplements. The NHS said "there is some evidence" that a diet high in vitamins as well as substances such as lutein can aid in the treatment of age-related macular degeneration. However, the NHS said its advice is to discuss options with an ophthalmologist.
Nestle said last year that it was working to develop products that meet demands for health and wellness and premium products, while balancing the need to modernise "traditional" brands without losing their heritage.