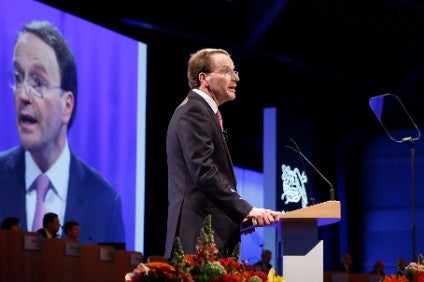 Nestle, which this summer announced three investments into smaller, on-trend companies, will not add "dozens" of fledgling businesses to its portfolio but will be selective in its strategy of making bolt-on acquisitions, CEO Mark Schneider said today (26 September).
The world's largest food maker has, in recent months, either invested in or bought outright up-and-coming businesses to try to tap into some of the faster-growing niches of the food and beverage sectors.
Schneider, speaking to analysts and shareholders at Nestle's annual investor day, said the company has a "pipeline" of potential companies in which it could invest or which it could acquire but said the Swiss behemoth would be judicious in where it moved.
Meanwhile, the Nestle chief, who took the helm at the Maggi and KitKat maker earlier this year, said the company's efforts to reshape its portfolio would see it continue to look to offload assets. Over the "mid term", Nestle's moves to buy and sell assets will amount to businesses that account for 10% of the company's group sales, Schneider said.
Two weeks ago, the Nescafe owner acquired a majority stake in US coffee roaster and retailer Blue Bottle. Earlier in September, Nestle entered the US vegetarian food market with the purchase of local business Sweet Earth. In June, Nestle bought a minority stake in US online meal-kit service Freshly.
The three transactions indicated a change in Nestle's M&A strategy towards using acquisitions to build the food giant's presence in more buoyant parts of the market as consumer tastes and habits change.
"For those of you who are wondering how many can the company do, let me reassure you: we have no intention of boring the ocean. There will be no future, here, of managing hundreds and thousands of small start-up companies. We're going to be very, very selective in how we do those," Schneider told the audience at the event, which took place in London.
"The filter looks like this. It's about products that have already taken off and are right for scaling up; where, clearly, if we were trying to replicate the same thing, we would lose valuable time. Or it is about a skill-set that we simply don't have to a sufficient extent. Think about Blue Bottle and their presence in cafes. We will be quite selective. We won't do dozens and hundreds of those but where it's warranted we will clearly be willing to invest in order to be exposed to these new trends and learn from them."
Nestle's M&A strategy under Schneider will also include disposals. In June, Nestle said it had started to review the options for its US confectionery division and the company is hoping to the seal the sale of the business by the end of the year.
"We will need to trade out of some product areas and into others," Schneider said. "We have announced some of this with our review of the US confectionery business as an example. When we do trade, we will do this prudently."
Addressing the investors and shareholders in the audience, he added: "Unlike in your business, when a corporation trades in and out of product categories the switching costs are much, much higher. This is not just pushing a button and trading a share. There's usually fairly complex integration or carving out required to do a transaction and hence it has to be thought through carefully."
Nestle's US frozen food business, which has been under some pressure in recent years, has been touted by some analysts as a business that could be sold.
However, Schneider said Nestle, which has DiGiorno pizza and Lean Cuisine ready meals among its frozen brands in the US, has "a strong commitment" to the business.
"I know with some of you there was a perennial question about when we were getting out of this. Unjustly, this business has a bad reputation from the past when maybe some of the food offerings were not exactly Nestle health and wellness.
"In frozen, it's not about the delivery, it's about what you put in. If you freeze healthy products, you get healthy products. The whole notion of vilifying a whole supply chain does not make sense. We have a very strong frozen supply chain in the US. It's a source of competitive advantage, an envy to the industry, a huge barrier to entry to other people that would like to offer frozen. Let's use it to offer products that are in line with the market. I think Sweet Earth is one of them."
Another question facing Schneider and M&A strategists at Nestle has been its 23% stake in L'Oreal. US activist investor Daniel Loeb, who this summer bought a stake in Nestle, has called on the company to sell its L'Oreal shares. Speculation over the future of Nestle's investment in L'Oreal has intensified in recent days with the death of 94-year-old Liliane Bettencourt, the world's richest woman and owner of a third of the shares in the cosmetics giant.
Schneider said today: "Our approach to this investment is currently not changing. There's a lot of change in our main business – the other 90% of our market cap – and we're fully committed to making the best out of those changes. This is the single biggest way for everyone to create value. Let's focus on that and keep first things first."
Ahead of Nestle's investor meeting in the UK capital, the company unveiled a formal margin target, a move demanded from some investors, including Loeb.