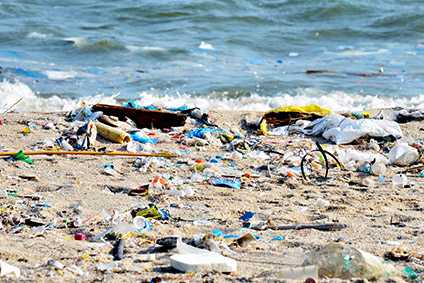 Nestlé, Unilever and Danone are among the consumer-goods companies to have signed a new commitment on plastic packaging.
Under the auspices of UK-based charity The Ellen MacArthur Foundation, FMCG giants that also include Mars, PepsiCo and The Coca-Cola Co. are aiming to create a "new normal" for plastics, including the elimination of single-use packaging materials.
Some 250 organisations, also including retailers Ahold Delhaize and Marks and Spencer, the packaging producer Amcor, plus governments and NGOs, have signed the commitment.
The pledge is the latest move by The Ellen MacArthur Foundation to bring together consumer-goods companies to tackle pollution from plastics. In 2016, the foundation launched its own New Plastics Economy programme to apply the principles of the circular economy to plastics.
Some of the companies involved had already signed up to previous targets convened by the foundation.
Dame Ellen MacArthur, the British sailor, who set up the charity, said: "We know that cleaning up plastics from our beaches and oceans is vital, but this does not stop the tide of plastic entering the oceans each year. We need to move upstream to the source of the flow. The New Plastics Economy Global Commitment draws a line in the sand, with businesses, governments and others around the world uniting behind a clear vision for what we need to create a circular economy for plastic."
The targets under the commitment include eliminating "problematic or unnecessary plastic packaging" and moving "from single-use to reuse packaging models"
Signatories have committed to ensuring "100% of plastic packaging can be easily and safely reused, recycled, or composted by 2025".
They have also set a target to "significantly increase the amounts of plastics reused or recycled and made into new packaging or products".
Nestlé CEO Mark Schneider said: "This global commitment is a step-change we urgently need in order to move from a linear to a circular economy. We want to act and lead by example. We will do our part to ensure that none of our packaging, including plastics, ends up in the natural environment."
At the centre of the commitment is a vision of a circular economy for plastic, "where plastics never become waste", a statement announcing the pledge said today (29 October). "Each signatory formally endorses the vision and the need to work towards achieving it."
The vision is defined by six points: the elimination of problematic or unnecessary plastic packaging through redesign, innovation and new delivery models is a priority; reuse models are applied where relevant, reducing the need for single-use packaging; all plastic packaging is 100% reusable, recyclable, or compostable; that all plastic packaging is reused, recycled, or composted in practice; the use of plastic is fully decoupled from the consumption of finite resources; and all plastic packaging is free of hazardous chemicals, and the health, safety and rights of all people involved are respected.