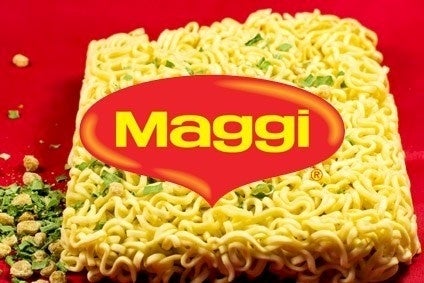 Nestle has been forced to withdraw its Maggi noodle brand in India over a scare that has seen local food safety bodies insisting that the product is tainted with elevated levels of lead and MSG.
The company said today (5 June) that it has taken Maggie noodles off the shelves despite insisting that the products are "safe".
"The trust of our consumers and the safety of our products is our first priority. Unfortunately, recent developments and unfounded concerns about the product have led to an environment of confusion for the consumer, to such an extent that we have decided to withdraw the product off the shelves, despite the product being safe," the company said in a statement. "We promise that the trusted Maggi noodles will be back in the market as soon as the current situation is clarified."
The scandal, which broke in Uttar Pradesh after the authorities detected elevated lead and MSG in routine testing, has seen a number of Indian states ban the sale of Maggi noodles. States that have banned Maggi include: Delhi, Gujarat, Tamil Nadu, Jammu and Kashmir and Uttarakhand. Retailers such as Future Group's Big Bazaar, Wal Mart and Metro have also reportedly pulled Maggi noodles from the shelves. UP has filed a criminal case against Nestle India while other states continue to test products.
Nestle's own testing as well as sampling commissioned by the company and carried out by an independent laboratory found amounts of lead "well within" levels permitted by regulatory standards, Nestle said. The company also insisted that it does not use the ingredient MSG in Maggi noodles in India.
Maggi noodles account for 29% of Nestle India sales.