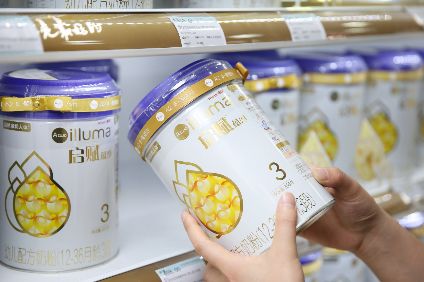 Nestlé's nutrition and health division outperformed the Swiss food giant's other business units in the first nine months of the fiscal year amid growth from infant nutrition.
Chief executive Mark Schneider said on an analyst call on Thursday (18 October) the Zurich-listed company made progress in "sharpening its strategic focus" on nutrition, health and wellness brands during the third quarter, describing the group's overall nine-month sales as "solid".
However, despite the latest financials largely meeting analysts' expectations it was seemingly not all plain sailing for the KitKat and Lean Cuisine owner as Schneider noted the still "challenging environment in Brazil and "issues" within its frozen foods category. Nestle also said it continued to face headwinds from commodity costs – which it had hoped would dissipate in the second half – along with pricing pressures in western Europe.
Nestlé rolled out A2 milk powder in China under its Illuma brand in March. A2 products are made from cow's milk that lacks casein proteins called A1 and is said to be favoured by some consumers with sensitive stomachs.
Sales from Nestlé's nutrition and health-science products posted nine-month organic growth of 4.4%, outpacing the group result of 2.8%. Chief financial officer Francois-Xavier Roger said nutrition sales grew 3.7% in the third quarter, the highest level since 2016, with an acceleration in infant nutrition within the combined Asia, Oceania, sub-Saharan Africa.
"In China, the infant-nutrition business saw mid-single-digit growth in the nine months, with a high single-digit performance in the third quarter," the CFO said. Nestlé saw "encouraging results from recent launches such as Illuma organic and A2 formula" in China, he noted.
Schneider added he was "particularly pleased with the progress in our China infant-nutrition business".
While Nestlé revealed this week it plans to expand its markets for A2 milk powder into Australia and New Zealand, Roger was coy when asked during the Q&A session what other destinations might be on the horizon. He said the company "won't disclose in advance" where it is going to launch, but at the moment, it is "most appropriate for China".
Turning to the frozen foods category, which has shown signs of a renaissance among consumers in certain markets – including the US – of late, Schneider said he was "not happy with the developments we've seen this year".
"On an operating level we have work to do," the CEO noted with reference to the Lean Cuisine and Stouffer's brands, but added the company was still "committed to the frozen category".
"I think when we developed a whole lot of other initiatives we sometimes lost sight of that base, and in particular when it comes to some of the renovation drive and innovation drive we have put in place in 2014/15 and early 2016, too much of that was a one-shot deal and was not followed up by a second and third wave of continuing innovation," Schneider said.
Ultimately, the competition has caught up and so Nestlé needs to have the "next thing ready to go to give you an edge, and this is what we are working on now".
"This [situation] will probably persist for the rest of the year where we are laser-focused on improving performance and coming out with meaningful innovation that will help us in 2019/20 and beyond," the CEO cautioned.
Alain Oberhuber, chief executive of Zurich-based MainFirst Schweiz, echoed Schneider's view. He expects Nestlé's frozen food business to remain under pressure for the "next quarters".
"US frozen business had a mixed picture in Q3-18, with pizza and Hot Pockets doing well," the analyst wrote in a follow-up report after the results. "However, disappointing was the development of Lean Cuisine and Stouffer's, as both brands returned to negative organic growth rates. This was a clear disappointment and the company works hard to improve this business."

Nestlé reiterated its full-year organic growth guidance of "around" 3% as it reported a 2% increase in sales for the nine months to CHF66.4bn (US$66.6bn).
Developed markets generated sales of CHF38.1bn, while emerging countries fostered CHF28.3bn in sales, to represent organic growth rates of 1.4% and 4.5%, respectively.
The real internal growth metric (RIG), which strips out pricing, grew 2.3%.
Nestlé is targeting an underlying trading operating profit margin of 17.5% to 18.5% by 2020, and said this week the improvement in that metric during the latest quarter was inline with achieving that goal.
While the company saw an improvement in RIG across all three geographical segments, CFO Roger said Brazil "remains challenging amid soft consumer confidence". However, he added the country returned to "positive territory" in the third quarter, and expects that to continue in the run-up to year-end.
When questioned on the impact of Argentina, which has entered an environment of hyperinflation that has caused other food industry manufacturers to adjust their financial results accordingly, the CFO said Nestlé saw a limited impact given that the country only accounts for 0.5% of group sales. Still, Nestlé will now exert hyper-inflationary treatment on Argentina, he added.
Meanwhile, Nestlé faced pricing pressure in its Europe, Middle East and North Africa division (EMENA), mainly linked to "deflationary trends" in western Europe, where prices fell 0.7% over the nine months.
In Schneider's view, the downforce on prices in the zone is expected to go on as retailers join together to reduce cost pressures, and amid increasing competition and wage inflation.
"On pricing I think, on the one hand, you have some headwinds like the competitor intensity and increased retailer cooperation, on the other hand for 2019 and beyond it seems like the world, including western Europe, there is some inflationary tendencies that will help us," the CEO said.
To get around pricing pressures, "fast and meaningful" innovation is key but in product areas that really "resonate with consumers, but they have to get out there fast before someone takes the opportunity", Schneider added.
"We have seen now over the past year, several very encouraging examples, where from concept to store shelves we made it in six to nine months," he said. "This, in my opinion, has to become the new normal. This is what we as an organisation have to strive for."