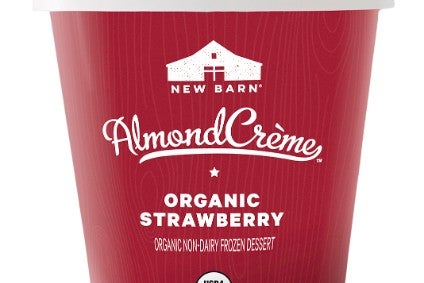 US-based organic foods and drinks manufacturer New Barn has raised US$3.8m to fund its expansion into plant-based products.
Formed in 2015, New Barn makes organic almond-milk drinks under its Barista brand, as well as a range of non-dairy frozen desserts called AlmondCrème.
Located in Modesto, California, the business is now seeking to grow its core alternative dairy line-up and also launch into "innovative" plant-based products in multiple categories, drawing on its focus for simple, clean label and certified-organic food items.
The funding round was led by New Food SPV, a special purpose investment company set up by New Barn's chief executive and chairman Ted Robb, who contributed to the financing along with other "individual" backers.
"We have experienced tremendous growth since we launched in 2015," Robb said in a statement announcing the funding. "Customers are falling in love with our brand and our steadfast commitment to making clean, delicious organic products. With more households across the US and abroad switching to organic, we believe our brand speaks to a core desire of our customers."
He added: "We are really excited about what is to come in 2018. We have a fantastic team, exciting ideas, and will be stepping out in a big way."