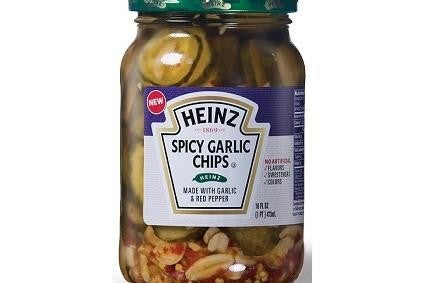 Kraft Heinz is launching its first new flavours of Heinz Pickle Chips in the US in more than half-a-century.
Kraft Heinz said the new flavours – sweet & spicy and spicy garlic – will make their debut at a two-day festival in the aptly-named Picklesburgh, Pennsylvania, starting today (15 July), where festival goers will have a chance to "taste test" both of the new pickles and cast a vote for their favourite.
The new pickles, which come in 16-ounce glass jars featuring the iconic Heinz Keystone logo, will be rolled out across the US late summer in national retailers such as Walmart and Target, the company said.
Kraft Heinz head of marketing Federico Arreola said: "Heinz has a legacy of delivering great tasting, quality products. "Pickles have been part of the brand's heritage since the 19th century. We're excited to bring innovation to the category that will enhance our consumers' favourite foods with new and bold flavours."
According to the OC&C Strategy Consultants' 14th annual Global 50 report, recent mega merger and acquisitions such as the deal that brought Kraft and Heinz together, have become the major source for revenue growth for the world's biggest food brands that are part of the top 50 global consumer goods companies.