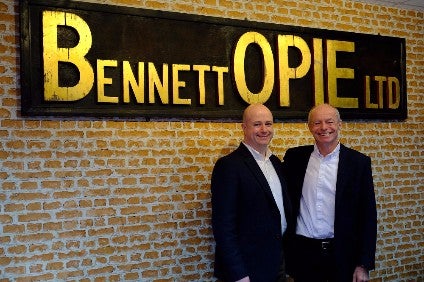 Family-owned UK food manufacturer and distributor Bennett Opie has named sales and marketing director Christopher Opie as its latest managing director.
A fifth-generation descendant of the company's namesake founder, Christopher replaces his uncle William, who has been the business' MD for 25 years.
William has become Bennett Opie's chairman, with another family member, Christopher's father Philip, becoming president.
A former Unilever executive, Christopher said he was "privileged" to be "taking [the business] forward".
He added: "The Opies brand has great potential for growth across all sectors, retail and foodservice as well as for export. Our agency brands are equally important and we are also exploring opportunities to add to our select list that we exclusively represent in the UK."
Kent-based Bennett Opie, set up in 1880, markets products from gherkins to compotes under the Opies brand. It also distributes brands including Monin syrups, Lingham's chilli sauce and Ferns curry pastes in the UK.
According to the most recent set of accounts filed at Companies House, Bennett Opie generated turnover of GBP30.1m (US$39.8m) in the year to 1 April 2016, up from GBP28.1m a year earlier. The company's operating profit stood at GBP3.2m, versus GBP2m in the previous financial year. Net profit was GBP2.5m, against GBP1.6m in the 12 months prior.
Bennett Opie could not immediately provide more recent figures when approached by just-food.