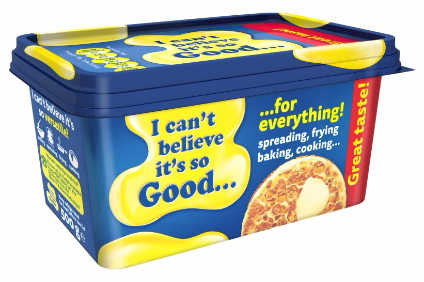 Unilever is rebranding its I Can't Believe It's Not Butter spread in the UK in a move to "drive awareness of the product's versatility".
The consumer goods group said the rebranding of the spread to I Can't Believe It's So Good For Everything aims to show the product can "satisfy a range of consumer needs, from spreading and cooking to baking and frying".
The company said it will promote the rebranded product as "a healthier choice for shoppers as it is made from plants, and contains Vitamin D, Omega 3 and less saturated fats and calories than butter".
Unilever UK brand manager Pedro Costa said: "We know that our consumers want value for money when it comes to spreads. Our brand evolution to take on a new name helps to drive home the fact that this product is unbelievably versatile and a healthier option, making it a great value offering. We expect this change to resonate well with our existing customers whilst attracting new ones."
Unilever CFO Graeme Pitkethly admitted last year the company's spreads continued to be a "drag" on the group's wider food operations but said spreads remained "a highly cash-generative business".