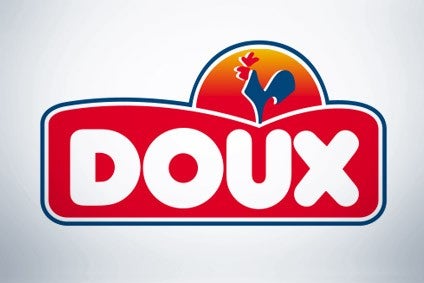 UK chicken processor Chesterfield Poultry is one of a clutch of new names to emerge as bidders for ailing French peer Groupe Doux.
According to French news agency AFP, Chesterfield, a halal meat specialist based in the English Midlands, has proposed to take over the French company's Vendee slaughterhouse and its 145 employees, the L'Oie hatchery in Vendee and its 85 employees and the Essarts-en-Bocage food factory and its 15 employees.
It has thrown its hat into the ring alongside existing bidders: a consortium of French poultry peer LDC, agri-food co-op Terrena – Doux's majority shareholder – and Saudi group Al-Munajem has made a bid as has Ukraine-based poultry processor MHP.
New bidders alongside Chesterfield are German meat by-product company Saria, which proposes to resume the production of animal flour in Chateaulin with 17 employees, The Foch Investissement Group, a French investment group which wants to take over the Plouray site with 69 employees, and Yer Breizh, which wants to take over breeding farms, a hatchery and the Bannalec site in Finistere for a total of 97 employees.
A commercial court in France will decide on which of the takeover bids tabled prevails on 18 May. The deadline for the submission of bids has now passed.
Loss-making Doux announced its intention to file for liquidation at the end of March.
Chesterfield Poultry's halal chicken is sold in grocery stores and small supermarkets around Britain.
Its managing director Nadeem Iqbal told just-food: "Chesterfield Poultry, a family-owned business, has put a bid in for a French Doux company with a view to growing its portfolio in Europe.
"Chesterfield Poultry realises the importance of a skilled workforce and is looking to secure the existing jobs and develop the business further."