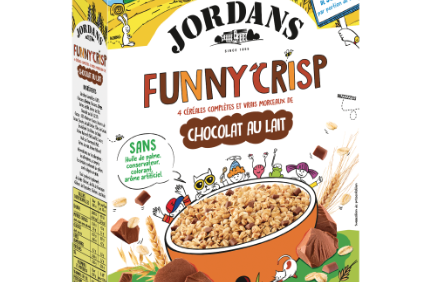 This week's round-up of the most notable product development from the international food sector includes news of a range of vegetarian meals from Birds Eye in the UK, Mars' confectionery brand M&M's moving into cakes and Tine's foray into plant-based foods.
ABF's Jordans launches healthy children's cereal Funny Crisp in France
Cereal and bars business Jordans, in which Associated British Foods (ABF) has a 62% controlling interest, has launched Funny Crisp in France, a better-for-you product aimed at children.
The cereal contains less than 4.5g of sugar per 30g serving, which Jordans says is two to three times less than most existing brands.
The company said: "With Funny Crisp, Jordans wishes to impose itself on a market for children's cereals, down 2% and losing consumers. Demand is eroding in the face of an offer that does not meet the expectations of good eating. The offer is now very sweet: some brands have sugar levels of up to 43% or nearly half the package."
The cereal is made with four whole grains (oats, wheat, barley and rice) and pieces of fruit or chocolate. Variants are available with strawberry or apple and raspberry.
There are no colours, preservatives or artificial flavours.
Farmwise creates Chicken Veggie Nuggets and Tenders
US-based Farmwise – makers of Veggie Fries, Veggie Tots and Veggie Rings – has launched Chicken Veggie Nuggets and Tenders.
The Boston company's new product comes in two varieties – Chicken Veggie Nuggets Original Recipe and Chicken Veggie Tenders with Ancient Grain Breading.
The chicken and vegetable products contain 10+g of protein, have no gluten ingredients and are free from the top eight allergens.
Farmwise co-founder Cristina Peters said: "As parents of three daughters, Chicken Nuggets have been a staple product in our freezer, but we always made sure they were served with veggies too. For the ultimate in convenience, we decided to blend the veggies inside for all-in-one chicken and veggie nutrition."
The nuggets and tenders are available now at Kroger and will be on the shelves at Jewel and Hannaford supermarkets from early October.
Barilla leans to plant-based with chickpea, lentil pasta in US
Italian pasta business Barilla is launching a new US range made with just chickpeas or red lentils to cater to growing demand for plant-based foods stuffs.
Four varieties are available: Red Lentil Rotini, Red Lentil Penne, Chickpea Rotini and Chickpea Casarecce. They are gluten free and non-GMO certified.
The range retails at a recommended price of US$2.99 and can be found online at Amazon, along with select US retailers.
Dairy Crest reformulates Clover Light
UK dairy products business Dairy Crest has undertaken a recipe reformulation of its Clover Light Spread to re-launch with no artificial ingredients.
The new recipe formulation also brings an enhanced buttermilk content (increased from 16% to 40%).
The renovation of Clover Light, which follows the relaunch of Clover Original with no artificial ingredients in 2015, has been undertaken in response to the consumer trend towards more natural, unprocessed products.
Emilie Grundy, senior brand manager spreads at Dairy Crest, said: "The reduced fat Spreads category is sizeable but has suffered from eroding interest over recent years as consumers are increasingly unwilling to compromise on taste and naturalness, key drivers of consumer choice within butters and spreads.
"To date there has been no 'light' solution in the market that has allowed them to cut down on fat without a compromise to the ingredient deck."
The new Clover Light will land on supermarket shelves this month.
UK's Roberts bakery unveils 100% recyclable packaging
Independent UK bakery Roberts is claiming to be the first in the country to achieve 100% recyclable packaging.
Its three-strong range of artisan bloomers – Heroic Wholemeal, Wondrous White, and Seriously Seeded – will be packaged in materials which are 100% recyclable in household kerbside collection bins.
The Roberts Bloomer range was launched last autumn in 85% recyclable packaging as part of Roberts' radical rebrand. By replacing the previous polypropylene plastic window to polyethylene terephthalate (PET), the bakery said it is taking its first step in its commitment to making all its packaging 100% recyclable or compostable.
Stuart Spencer-Calnan, managing director of the Cheshire-based firm, said: "As the next gen bakery brand, we're passionate and committed to not only doing our bit to help everyone live more sustainably, but also ensuring we are true to our ethos."
The recyclable Bloomer range will be on sale nationally from mid-October from retailers including Asda, Morrisons and Tesco.
Norway dairy giant Tine in plant-based push
Tine, Norway's largest dairy business, is further dipping its toes into the plant-based market
The co-op is already a supplier of fruit juice and is now launching more products under its Sunniva brand.
Tine is rolling out a cooking cream made with coconut and rape that can be used in foods like sauces and soups.
It is also launching a plant-based, on-the-go coffee, also in Norway.
"Demand for plant-based food and beverages increases. This is an international trend that is also applicable in Norway," Tine said.
Orkla's autumn roll outs include organic ketchup, plant-based burgers
Nordic food group Orkla has launched a host of new products for the autumn via its subsidiaries including ready-made sauces, vegetarian frozen pies and confectionery.
The range of ready-made sauces are from its Toro line, along with a new soup, Toro Chunky Soup Vegetarisk Indisk Masala.
Orkla's Beauvais brand is rolling out organic ketchup, while Anamma is offering plant-based mince, burgers and sausages.
Swedish health brand Paulúns is launching Linsflingor breakfast lentil flakes, and also in Sweden comes Risifrutti Bare Risgrøt just-rice porridge with no added sugar.
Other launches include high-protein Maxim Protein Powder Porridge with no added sugar, and vegetarian frozen pies from Orkla's Felix brand. Grandiosa is rolling out a flatbread pizza and Panda is tempting shoppers with its new Chocolate Glazed Liquorice in Norway, Denmark and Finland.
And Hamé is launching a special liver pâté for children in the Czech Republic and Slovakia.
Fine Valley Foods' Three Bridges unveils Simple Dishes pasta meals
US-based Three Bridges, which is owned by Fine Valley Foods, is launching a range of convenient pasta meals.
Designed for lunchtimes, the new microwaveable Simple Dishes come in four varieties: Italian Sausage Ziti; Chicken Primavera; Chicken Penne Alfredo; and Rigatoni with Meatballs and Mushroom Cream Sauce.
The 12-ounce meals will be stocked in Safeway, Shaw's, Raley's and Albertsons in the coming weeks at a recommended retail price of US$5.99.
Three Bridges' chef Craig Schauffel said: "Half of Americans have less than 30 minutes for lunch, and they don't want to spend precious minutes of that time preparing a meal. We crafted Simple Dishes to fill this void – the meals are ready to grab-and-go, without sacrificing taste or health."
Piccolo launches Mighty Squeeze snacks for toddlers
UK healthy baby food brand Piccolo is launching Mighty Squeeze, a squeezable snack range for toddlers.
The London-based company said the range is "supercharged with exciting ingredients and vitamins, and found in a handy pouch format, which makes them perfect for snacking on-the-go or a nutritious lunchbox option".
Aimed at toddlers of at least a year, Mighty Squeeze is available in three flavours – pear, pea, banana & avocado with amaranth & mint, carrot, mango & coconut with amaranth & turmeric and pear and sweet potato & carrot with pomegranate & quinoa.
Cat Gazzoli, founder of Piccolo said: "We are always looking at ways to bring new and different ingredients to our recipes as we know how important this is in developing little one's tastebuds and setting them up with a great and lifelong relationship with food.
Piccolo Mighty Squeeze has an RRP of GBP1.30 (US$1.68) for a 110g resealable pouch.
Chobani loads bread pudding onto United Airlines flights
Chefs at US-based dairy business Chobani have teamed up with United Airlines to put a banana bread pudding on its breakfast menu.
Made exclusively for the airline's Choice Menu "Bistro on board" programme, the bread pudding is available on early-morning domestic US flights and those to Canada, Mexico, Central America and the Caribbean.
The puddings contain banana bread pieces and butterscotch chips baked in a vanilla egg custard and topped with oats, brown sugar and cinnamon. Chobani's Greek yogurt is used as a substitute for cream.
India's ITC Foods to launch milk-based drinks
ITC Foods, the India-based FMCG giant, is rolling out milk-based drinks next month.
The company will launch the Sunfeast Wonderz beverages in the southern states of Tamil Nadu, Karnataka, Telangana and Andhra Pradesh before taking the products across India.
The drinks are to be manufactured in a plant in the state of Punjab.
The conglomerate's origins are in tobacco and it remains one of the largest cigarette manufacturers in India. ITC also has interests in sectors including paper, hotels and information technology.
However, ITC said last year it had "a vision to be the largest food and consumer products company in India".
Nomad Foods' rolls out Birds Eye Veggie Bowls
Nomad Foods, the owner of the Birds Eye brand in the UK, is rolling out a range of convenient meat-free ready meals this month – Birds Eye Veggie Bowls.
The UK-based firm hopes the range launched across the grocery sector will "capitalise on the growth of flexitarian diets" and cater to the demand for more healthy food options.
Veggie Bowls come in four varieties at a recommended retail price of GBP2.89 (US$3.72) for a 380-gram pack: Moroccan Tagine with Chickpeas and Grilled Aubergine; Thai Curry with Chickpeas and Sweet Potato; Super Green Italian Risotto with Lentils and Grilled Courgette; and Asian Sweet & Sour Noodles with Edamame beans and Bamboo Shoots.
Each bowl contains two of an individual's daily recommended five portions of fruit or vegetables, as well as up to 19g of plant protein.
Mars takes M&M's brand into cakes
Mars is taking its M&M's brand into another area outside of confectionery in the UK with the launch of Cake Bars.
M&M's Cake Bars, available now, come in a pack of five individually wrapped bars consisting of a chocolate sponge, topped with a layer of cream and crispy pieces, and coated in milk chocolate. The recommended retail price is GBP1.65 (US$2.12).

Mars said the launch is expected to "rejuvenate" the cake bar category, estimated by Nielsen to be worth GBP29m.
Symington's revamps Ragu Italian cooking sauces
UK branded meals and snacks manufacturer Symington's is rolling out four new flavours of its Ragu brand of Italian cooking sauces as part of a product revamp.
The American-themed lines feature: Staten Island Tomato Chorizo & Chilli Sauce; Manhattan Creamy Tomato & Vodka Sauce; Queens Meat Feast Ragu; and Brooklyn 'Nduja Red Sauce.

All of the additions are gluten-free with no added sugar, and use natural ingredients. Symington's has also introduced Ragu in a new 250-gram pouch format.
The pouch range is available in Asda stores at a recommended retail price of GBP1.79 (US$2.29).