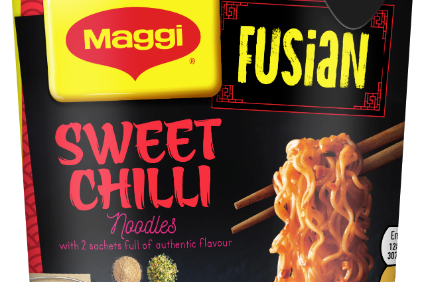 This week, the more eye-catching new products announced to market include Unilever rolling out a vegan version of its Hellmann's mayonnaise in the UK and Nestle taking its Asian-inspired Maggi snacks into noodle pots.
Agrial claims French milk first
French co-op Agrial is next month launching a a range of UHT milks that do not contain GMO ingredients and are part of the Bleu-Blanc-Coeur sustainability programme.
Agrial said at the end of 2017 a group of farmers in Normandy and Brittany became switching to using non-GMO animal feed.
This year, more of the co-op's farmers joined the Bleu-Blanc-Coeur initiative, a programme set up in 2000 that seeks to rear animals in a healthier and more sustainable way.
Bleu-Blanc-Coeur is recognised by the French ministries of health, agriculture and environment for its support of "nutritional and environmental" farming activities. There are currently more than 1,000 products produced under the brand across France and through international partner countries.
Hormel launches Skippy PB & Jelly Minis
US manufacturer Hormel Foods is combining its Skippy PB peanut butter with fruit flavoured jellies in a new baked snack product launch – Skippy PB & Jelly Minis.
Skippy PB & Jelly Minis are available in three varieties: peanut butter and grape jelly with white bakery bread; peanut butter and strawberry jelly with white bakery bread; and peanut butter spread and grape jelly with whole grain bakery bread.
Each pack comes with three pieces in boxes of four or ten, and provide seven grams of protein per serving. They are available in the frozen aisle of US grocers nationwide.
The boxes of four will sell at a recommended retail price of US$3.29-3.48, and the boxes of ten at $6.99-7.49.
Nestle's Maggi moves into noodle pots in UK
Nestle's Asian food-inspired brand Maggi has moved into the noodle pots category for the first time in the UK.
Its Maggi Fusian Noodles Pots range has been launched in the UK in three Asian flavours: Chow Mein, Spiced Curry and Sweet Chilli.
Vassia Katsogianni, senior brand manager at Maggi, said: "Maggi Fusian Noodle Pots are ideal for people looking for an authentic Asian taste experience, but lack the time to create it themselves.
"Noodle pots are a growing category so this is a massive opportunity for Maggi to be entering into as we expand the Maggi Fusian range."
The noodle pots are available in Tesco with a RRP of GBP1.15 (US$1.49).
GreenSpace Brands rolls out plant-based dairy range Riot Eats
Canadian food manufacturer GreenSpace Brands is rolling out a new plant-based dairy range – Riot Eats.
Several products are due for launch in natural and conventional grocery stores in North America, including plant-based cheeses, butter and spreads.
GreenSpace claims Riot Eats is the only USDA organic shredded and sliced cheese alternative brand in the North American market.
Chief executive Matthew von Teichman said: "The goal of Riot Eats is to flip the script on plant-based eating being a sacrifice to being an exciting personal gain. With high-quality ingredients, unique category certifications, and great taste and performance, our products are perfect for anyone looking to defy category "norms" and try something new."
Waitrose adds products to Cook's Ingredients range
UK supermarket Waitrose has added 100 products to its Cook's Ingredients range, including speciality items from around the world.
The retailer said the additions reflect the changing tastes of shoppers and the latest cuisine trends from Korea to Turkey and Calabria to Japan.
New products include Zhoug, a Yemenite hot green chilli sauce, Pul Biber, a Turkish chilli flake, Ketjap Manis, a sweet soy sauce from Indonesia and Japanese Togarashi seasoning made from cayenne, orange peel and sesame.
The range also includes products designed to help add flavour and speed up home cooking, including Garlic Purée, 'Nduja paste and Kimchi Paste.
Michelle Gibbs, product developer of Cooks' Ingredients, said: "We've tracked the major cuisine trends in the UK, looking at which ingredients our most popular chefs use in their recipe books. Recently, we've seen a rise in popularity of South East Asian, Japanese, Korean and Middle Eastern cuisines coinciding with a more casual approach to dining, meaning that people are cooking more adventurously at home than ever before."
Mondelez's The Natural Confectionery Co. launches lower-sugar sweets in Australia
Australia's The Natural Confectionery Co. has launched a better-for-you product in its domestic market in the shape of 25% Less Sugar Jellies.
The company, owned by global confectionery giant Mondelez International, said it had been working on formulating the product for three years.
With 25% less sugar than other leading Candy Jelly brands, the jellies contain no artificial colours, flavours or sweeteners.
Associate director for candy marketing Rohin Rosman said: "The new 25% Less Sugar jellies provide a treat which meets the growing demand for reduced sugar options, without compromising on the great taste or quality that people expect from The Natural Confectionery Co."
Rosman added that the science behind the reformulation is a "trade secret", but said some of the sugar has been replaced with a natural fibre.
The 25% Less Sugar Jellies are available in three variants: 25% Less Sugar Snakes (260g), 25% Less Sugar Frogs (220g) and 25% Less Sugar Fruit Basket (220g) with a RRP of AUD3.99 (US$2.84).
They will be sold throughout Australia at retailers including Woolworths and Coles.
Yildiz-owned chocolatier Godiva unveils G Cubes Collection
Godiva Chocolatier, the Belgian chocolate business which is owned by Turkish confectionery giant Yildiz Holding, has launched the G Cubes Collection in the US – a take on the brand's signature individually-wrapped chocolate truffles.
The G Cubes collection features ten flavours: White Chocolate Coffee; Milk Chocolate Matcha; Milk Chocolate Hazelnut; Milk Chocolate Salted Caramel Ganache; Milk Chocolate; Dark Chocolate; Dark Chocolate Strawberry; Dark Chocolate Mint; Dark Chocolate Vanilla and Milk Chocolate Pumpkin Spice.
Godiva executive chef chocolatier chef Thierry Muret said: "Our Godiva chefs and chocolatiers wanted to create a sensory experience that was modern and fun, but still followed the traditional Belgian savoir-faire."
The G Cubes Collection is now available in US stores in boxes of ten (US$4.95) and 22 pieces ($11.95). In addition, the Milk Chocolate Matcha flavour is available in bulk ($45 per pound).
Symington's launches Chicken Tonight sauce pouches
UK branded meal and snack manufacturer Symington's has extended its Chicken Tonight range with the launch of branded cooking sauce pouches,

The range includes Aromatic Moroccan Lemon & Herb, Hot & Spicy Jamaican Jerk, Fiery Salt & Pepper Chilli and Fragrant Coconut & Lime Leaf Curry flavours.
Available in 250g pouches, with a RRP of GBP1.70 (US$2.21), the pouches contain no added sugar, are gluten free and based on "natural, authentic kitchen cupboard ingredients".
Kevin Butterworth, marketing director at Symington's, said: "Chicken Tonight is a much loved brand, with a really loyal customer base and we're excited to rejuvenate it and introduce it to new customers discovering the brand for the first time."
Unilever launches vegan Hellmann's in UK
The might of Unilever is entering the fledgling market for vegan mayo in the UK, rolling out a plant-based version of its Hellmann's brand in the country.
Unilever already sells a vegan Hellmann's in the US and said it decided to launch the product in the UK amid growing demand.
Jon Walbancke, the marketing director for sauces and condiments for Unilever in the UK, said: "The mayonnaise category is in growth and this is due to brands bringing exciting new flavours and formats to the market. To continue to appeal to new shoppers, we are actively investing in key consumer triggers, which is why we are introducing a mayonnaise that taps into the vegan dietary trend."
In the UK, Unilever is using rapeseed oil – instead of soybean oil in the US version – to "suit UK tastes", the company said. Maize starch replaces the eggs.
Unilever is selling the vegan mayo in a 270g pack, with the product in a glass jar. The company said the mayo has a recommended retail price of GBP2.15 (US$2.78).
Food For Progress takes Oumph pizza to UK
Sweden-based vegan supplier Food For Progress is continuing its efforts in the UK with the launch of another product.
The company is selling a pizza under flagship brand Oumph through Tesco, the retailer where the supplier made its mainstream UK debut earlier this year.
An "Italian-style" pizza will be on sale in the frozen aisle in more than 170 Tesco stores. The 400g pizza has a recommended retail price of GBP3.99 (US$5.16).
"With our pizza we hope to reach new consumer groups beyond the core vegan and vegetarian fan base," Anna-Kajsa Lidell, Food For Progress' co-founder, said.
just-food interview from April 2018: Food For Progress co-founder Anna-Kajsa Lidell on vegan supplier's rise, ambitions and Big Meat eyeing alternatives – interview
UK's Deliciously Ella moves into frozen with vegan range
London-based Deliciously Ella, which specialises in plant-based food, has moved into the frozen category with a range of vegan meals for two.
Known for products including granola, muesli, energy balls and bars, Delicioulsy Ella's new frozen range comes in five variants: Cauliflower & Lentil Dahl – with red lentils, spinach and apricots; Sweet Potato & Black Bean Shepherd's Pie – with tomato, mushrooms and a sweet potato mash topping; Five Bean Chilli – with black beans, kidney beans, black eyed beans, cannellini beans and borlotti beans; Yellow Thai Curry – with peppers, butternut squash and mushrooms and Spiced Spinach & Potato Cakes – with coriander, turmeric and lime.
The new line has a RRP range between GBP3.99 (US$5.15) and GBP4.99.